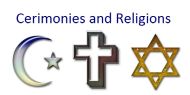 Description and comparative analysis of the ceremonies of different religions and confessions
Cerimonies

7.3.2. Naming ceremony
Sikhs follow the instructions for all ceremonies (birth, naming and marriage) as set out in the Sikh Rahit Maryada (Sikh code of conduct) and by following the holy book the Guru Granth Sahib.

Prayer is the first action of Sikh women when they find out that they are pregnant. When the baby is born, the words of the Mool Mantar (a key prayer, composed by Guru Nanak) are whispered into the ears of the child and a drop of honey is placed inside the mouth.

It is also customary to visit the temple as soon as it is physically possible after giving birth, this is usually within forty days of the birth of the child.

Once inside the Gurdwara the Guru Granth Sahib is randomly opened by the Granthi (priest) and a passage is read out aloud. The family will then choose a name by using the first letter of the hymn on the page opened. The baby's name is announced to the congregation, the Granthi will also add Singh (lion) as a surname if the baby is a boy, and Kaur (princess) if the child is a girl.

To celebrate, Karah Parshad, a sweet dish made from flour, semolina, butter and sugar, is distributed amongst the congregation.
Pictures
The Sikh naming ceremony is very special occasion and often the Gurdwara will be over flowing for the special event.
Videos
Naming ceremony – A video of a Sikh naming ceremony