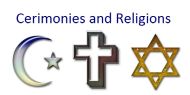 Description and comparative analysis of the ceremonies of different religions and confessions
Cerimonies

2.1. Introduction
In this chapter you can find information about Jewish ceremonies – the chapter presents information about Shavuot, Sukkot and Rosh Hashana. Ceremonies are important part of each culture. If Rosh Hashana is quite popular, because you can find similar celebrations along many religions and cultures, Shavuot and Sukkot are not so popular but are two of the most important holidays during the year and related to very specific ceremonies, related to traditions kept with centuries.
Interview
In this video Debora and Nora tell us about some important Jewish ceremonies like the ones during Shavuot and Sukkot. What these holidays mean to them and how they celebrate themselves.
In this video a Bulgarian girl (Dalia) tells us about some specific Jewish ceremonies, done during Pesah and Hanuka.