1. Supportive Learning Environment
Learning is not only an intellectual activity, but also a personal and emotional experience. It arouses strong feelings that can range from frustration to satisfaction and from anxiety to delight. A supportive classroom environment facilitates learning by meeting students' basic affective and motivational needs and providing a safe space for self-expression. These needs relate to the student's identity, attitudes, emotions and sense of personal control within the learning environment.

Students need to feel both
physically and emotionally safe to learn
. They must be protected from the threat of stereotypes, harassment and exclusion at school. Safety is paramount when learning about issues of identity, cultural and religious diversity. These are sensitive subjects with great personal relevance for the learners. Students are often passionately invested and feel exposed and vulnerable at the same time. Establishing a safe climate for the
exploration of differences
takes time and commitment on the part of both teachers and students.
Classrooms are social settings. Teaching and learning occur through interaction between teachers and students and are affected by peer-group relations. Besides teaching academic skills, schools should support the identity formation of the students and foster open dialogue and mutual understanding. It is crucial to create an
atmosphere of inclusion
where individuality is validated, differences are respected and conflicts are managed constructively.
Learners thrive in a warm and personal environment where they are well-known and accepted. Sensitivity and awareness of students' lives outside of school creates a bond between teacher and student. Building
genuine relationships
with teachers furthers students' social and emotional development in addition to academic growth.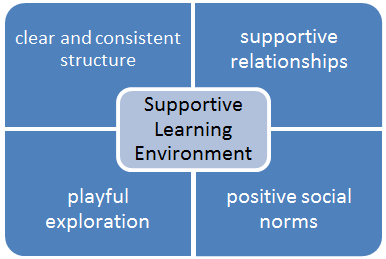 Most students favor a structure that promotes discipline in the classroom. Setting
clear rules
, procedures, and explicit expectations of conduct is the groundwork of sound classroom management. At the same time, students need a sense of personal control over the direction of the learning experience. Involving students in discussing and formulating classroom rules gives them a sense of empowerment and leads to higher commitment to the rules.
Supportive learning environments encourage
playful exploration
. Meaningful learning requires curiosity and a willingness to take risks. Teachers can facilitate the process by authorizing students to experiment and to make mistakes. It is important to praise effort and creativity, and not to focus only on the outcome.