2. Empathic Communication
Empathy
is the ability to put yourself in the place of someone else and appreciate what it is like to be them in the given moment. It has a cognitive component - recognizing what the other person is thinking or feeling - and an affective component - experiencing her emotional state. Empathy helps teachers understand the actual needs of their students and build authentic relationships with them. Acknowledging how students are feeling and talking to them about it in a non-judgmental way lies at the heart of building a caring classroom culture.
Empathic communication
involves connecting, listening, building relationships and caring for each other. It means treating others with respect while setting appropriate limits on how they act around us.
Empathy is the foundation of all
emotional intelligence
. It is essential to building rapport and sustaining wholesome relationships. Empathy helps us understand what motivates others and decide how best to respond. As students learn to value different points of view without rushing to judgement, they develop intellectual flexibility, emotional competence and lifelong interpersonal skills.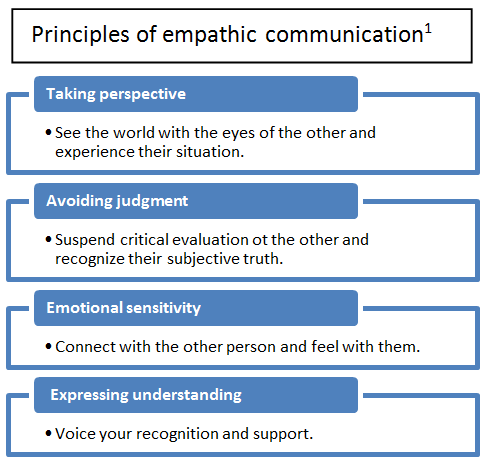 Honoring student experience
turns school into a place where young people are seen, valued, cared for and respected for who they are. Leading by example, teachers can show their students how to interact with empathy and build relationships which inspire trust and care for others. Encouraging students to expand their circle of concern makes the school community stronger.
Empathic communication bridges divides and challenges biases and stereotypes. Helping young people establish meaningful connections with peers of different backgrounds promotes openness to the other, active tolerance and mutual understanding. This improves individual and communal well-being, leading to positive outcomes for academics and beyond.