5. Interpretive Approach
If we want a truly inclusive intercultural education we need to recognize both the diversity between different cultures and religious traditions and the diversity within those groups. To expand their understanding, students must be engaged in critical examination of their own assumptions. Considering different perspectives and gaining first-hand experience enhances the
intercultural competence
and critical capacity of the students.
The interpretive approach
to studying religion explores multiple perspectives in order to make sense of this complex human phenomenon. It does not seek to promote or undermine spiritual belief or to impose any particular view on the students. Its goal is to engage them in critical examination and to enable them to formulate their own views.
Drawing insights from literary studies, hermeneutics and anthropology, the interpretive approach takes account of the dynamic and irreducibly
complex nature of religion and culture
and of their interaction. Simplistic representations of homogeneous cultures that are clearly distinct from one another are rejected. Instead, cultures are seen as dynamic, internally contested and overlapping. Culture is not only a possession that one acquires but also a process to which every individual can contribute. Diverse ethnic and religious groups coexist in post-modern pluralistic societies. Anyone can tap into a wide range of cultural resources and make a personal synthesis.
Religion is thus understood as relationship between individuals within the context of particular groups and wider religious traditions. The
representation
of religions emphasizes the interplay between the particular and the general, operating at three different levels:
the tradition – the wide picture, encompassing all branches, historical developments and key concepts;
the group – a concrete denominational, sectarian or ethnic group;
the individual – a unique human being, subject to many influences;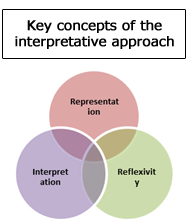 The interpretive approach considers students' own perspectives as an important part of the learning process. Pupils continuously compare their own assumptions with insider's accounts, building self-awareness and intercultural understanding. Thus, interpretation is an infinite cycle of gathering knowledge and evaluating its meaning.
Students are asked to reflect on the impact of their learning on their previous understanding. Learning materials and methods should also be critically examined. Exploring the relationship between the learning material and the knowledge and experience of the pupils becomes the point of the lesson. Students are encouraged to engage constructively with difference, challenging previously unquestioned assumptions and finding points of contact and overlap.