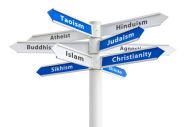 An interactive didactical map interactive didactical map giving access to sites with a religious relevance.
Back to the Religious Sites List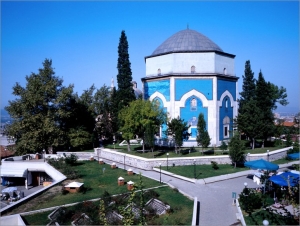 The Green Tomb
Yeşil Street, Bursa
DESCRIPTION OF THE RELIGIOUS SITE
DESCRIPTION
Yeşil Türbe, the Green Tomb, is one of Bursa's most distinctive landmarks. Standing on top of a hill in the eastern Yeşil neighborhood in Bursa, this hexagonal green structure is the mausoleum of Mehmed I, the fifth Ottoman sultan.
HISTORICAL RELEVANCE
The Tomb's domed central hall is flanked by rooms to left and right that were used for both prayer and for conducting Ottoman government affairs. The main prayer hall is the room with the 15-meter (49-foot)-high mihrab (prayer niche), opposite the portal.
INTER-RELIGIOUS RELEVANCE
The fact that the mausoleum of the Green Tomb is a unique work of art can be evaluated in this context. The geometric shape of the altar, which is enclosed in the frame, results in a mukarnas. The chapel section is filled with kufi and celî writings, and curved branches and rims are made on the corners. There is a lamp in the center of the altar, and a composition composed of candlesticks written by Allah and Muhammad on both sides. Dark blue, yellow, green, turquoise, black and white colors were used abundantly in the mihrab tins.
RELIGIOUS INFLUENCE
The face stone and brick were used in the building of Green Tomb's Madrasah named Sultaniye. It has 100 meters distance from that tomb. Also surrounded by a rectangle courtyard and porches with dome, madrasah contains a training center and the rooms for students.
HOW TO USE WITH THE STUDENTS
Direct visit
REFERENCE TO THE GUIDELINE