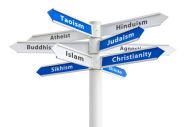 An interactive didactical map interactive didactical map giving access to sites with a religious relevance.
Back to the Religious Sites List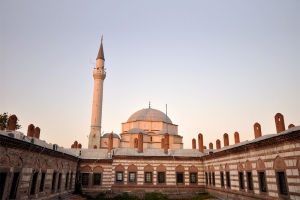 Hisar Mosque
Kemeraltı, Izmir, Turkey
DESCRIPTION OF THE RELIGIOUS SITE
DESCRIPTION
The mosque has one main dome in the centre facing the entrance supported by eight large pillars along with three large domes on either side. There three smaller domes at the back of the top. The courtyard has a series of seven domes on the sides. There is a şadırvan (fountain used for Islamic ritual washing) overlooking the courtyard. The mosque has been restored in 1813, 1881, 1927 and 1980 after damage.
HISTORICAL RELEVANCE
Hisar Mosque is a historical mosque in Izmir. It has been recorded to have been constucted by Aydınoglu Yakup Bey between 1592 and 1598. The 16th century mosque is one of the biggest in the city centre and its interior contains one of the most striking examples of Ottoman Islamic artwork in Izmir.
INTER-RELIGIOUS RELEVANCE
Hisar Mosque, which is situated on top of a rock, is assumed to have been a church at one point.
RELIGIOUS INFLUENCE
Hisar Mosque, which is Izmir's biggest mosque, hide the city's story in its name and the history of Izmir on its walls.
HOW TO USE WITH THE STUDENTS
Direct visit
REFERENCE TO THE GUIDELINE