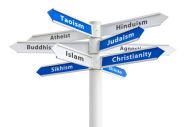 An interactive didactical map interactive didactical map giving access to sites with a religious relevance.
Back to the Religious Sites List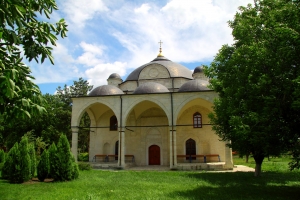 Church of the Assumption
Uzundzhovo, Bulgaria
DESCRIPTION OF THE RELIGIOUS SITE
DESCRIPTION
The Assumption of the Holy Mother is the largest rural church in Bulgaria. It combines various elements of Christianity and Islam. It has been both a church and a mosque over the centuries. The eclectic architecture and decoration are neither purely Islamic nor typical of an Orthodox temple. Signs of both religious traditions are evident under the same roof. In the last century, the Assumption church in the village of Uzundzhovo was proclaimed to be a cultural heritage monument.
HISTORICAL RELEVANCE
Built initially as a Christian temple, it was destroyed in 1593 by the Ottoman Turks. A mosque was erected in its place. It was a part of a large fortified complex that included caravanserai, hamam and imaret. The central entrance is still preserved. Uzundjovo used to be one of the most famous settlements in the region. There was a big fair every September. The village turned into a commercial center where merchants from near and far have come to expose their merchandise. The Uzundjovo Fair was known throughout the Ottoman Empire, gathering the most prominent and wealthy merchants. In the early 20th century the Turkish government returned the property back to Bulgaria and the reconstruction of the mosque into a church began at that time. In 2007 the church was thoroughly reconstructed by the Haskovo Municipality. During the restoration works two medieval inscriptions in Arabic on religious-philosophical topics were discovered. All the icons and frescoes were restored. The Tryavna painter Master Darin Bozhkov carved a new iconostasis, which by its size ranks among the three biggest and most impressive ones in the country. The windows were decorated with fascinating stained glass works, depicting scenes from the life of the Holy Mother.
INTER-RELIGIOUS RELEVANCE
From outside the temple looks more like a mosque than like an Orthodox church. The round domes, the antechamber and the arches are characteristic of Islamic architecture. Inside, however, the church is painted with Orthodox frescoes, using bright and clear colors and the images of the Virgin and Child. The intricate iconostasis is the only one in the world featuring Glagolitic inscriptions.
RELIGIOUS INFLUENCE
The church keeps one of the famous miraculous icons of the Holy Mother. Many believers come here to pray for healing and redemption. Thousands of pilgrims seek help and salvation from the Holy Mother - especially on the temple holiday - 15 august.
HOW TO USE WITH THE STUDENTS
- Direct visit
- Virtual visit: Watch the video and see the photo galleries in the media resources section.
- Classroom activity World Religions Through Art (
https://bit.ly/2KU1AAd
)
CONNECTION WITH OTHER RELIGIOUS SITES
REFERENCE TO THE GUIDELINE
MEDIA RESOURCES
VIDEOS
LINKS