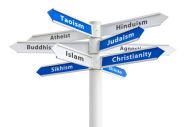 An interactive didactical map interactive didactical map giving access to sites with a religious relevance.
Back to the Religious Sites List
Voyvodovo
6353 Voyvodovo, Bulgaria
RELIGIONS
Islam, Orthodox
DESCRIPTION OF THE RELIGIOUS SITE
DESCRIPTION
In the village of Voyvodovo, the Christian Orthodox church "Saint Petka" and the Mosque stand at mere 10 meters from each other. The two buildings share a common courtyard. Christians and Muslims from the village chose the location together and took part in the construction of the two temples.
HISTORICAL RELEVANCE
About half the population of Voyvodovo is Christian, and the other half - Muslim. Until the year 2000, there was no functioning temple of any religion. The people then held a counsel and decided to build a church and a mosque. When Christians built their temple, the Muslims helped them - most with volunteer work, and the wealthy ones - with donations. Then the Christians returned the gesture by helping to build the mosque.
INTER-RELIGIOUS RELEVANCE
On the day of the inauguration of "Saint Petka" Church, the imam was invited to sing a prayer and bless the temple. When the mosque was completed, the priest came to perform a blessing of water rite. According to imam Kadir Tahir Aliosman "There is one God, no matter how we call him. The important thing is that we believe in Him."
RELIGIOUS INFLUENCE
Friday prayer - Namaz and Sunday Orthodox service are performed every week. The temple holiday of "Sveta Petka" usually coincides with the holy month of Muḥarram. The two congregations join for the feast of Ashura and other religious celebrations.
HOW TO USE WITH THE STUDENTS
- Direct visit
- Discussion: What was the most interesting or surprising thing learned?
REFERENCE TO THE GUIDELINE
VIDEOS