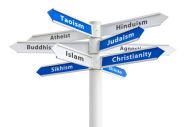 An interactive didactical map interactive didactical map giving access to sites with a religious relevance.
Back to the Religious Sites List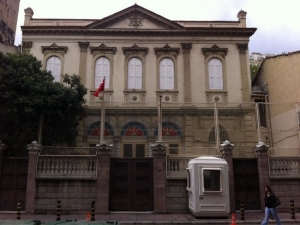 Beth Israel Synagogue
Mithatpaşa Street, number 265, Karatas, Izmir, Turkey
DESCRIPTION OF THE RELIGIOUS SITE
DESCRIPTION
The Beth Israel Synagogue is located on Mithatpasa Street in Izmir. Close to city center. Transportation is very easy. Nostalgic tram services and bus services are available.
HISTORICAL RELEVANCE
The emperor of Abdulhamit II was built in order to worship the Jewish people of Karataş district with an edict written to the former grand vizier kamil pasha. 1200 gold coins were spent for the construction. The construction of the synagogue in 1905 began in 1907. It is the biggest jewish worshiper in Izmir. In the 1950s, the mystery was restored and restored by the rider of the euram. In 2007 the 100th year of the synagogue was celebrated with a religious wedding ceremonies and series of events. Beth israel synagogue became the most important synagogue of the Izmir Jews after the construction and the increase of the Jewish population in this region. Due to its size, beauty and new european trends, it is not only Izmir but the most beautiful synagogue of all the near east. It is not a mirror of the traditional izmir Jewish community, but it stands as a proof of the desire for Europeanization of the Jewish community from the 20th century. Beth-israel is a historical artifact which the Izmir Jews prayed proudly and opened for tourists' visit.
INTER-RELIGIOUS RELEVANCE
The Ottoman Empire had included people belonging to various religions. One of the greatest examples of this thought is this synagogue. The emperor shows that the Jewish people care about their religion by making this worship to be able to pray freely
RELIGIOUS INFLUENCE
Islam dominant faith of the area but jewish people live in there with müslim people. They respect each other's beliefs and live in harmony. Today Jews who are still living with Muslim people freely use this synagogue for prayer
HOW TO USE WITH THE STUDENTS
REFERENCE TO THE GUIDELINE
MEDIA RESOURCES
VIDEOS
LINKS