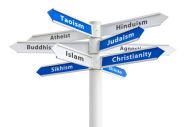 An interactive didactical map interactive didactical map giving access to sites with a religious relevance.
Back to the Religious Sites List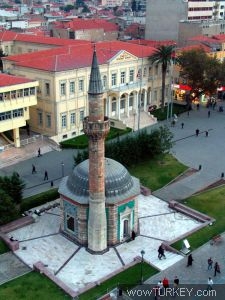 (Konak Camii) Yali Mosque
Konak Square, Izmir, Turkey
DESCRIPTION OF THE RELIGIOUS SITE
DESCRIPTION
The mosque in the Izmir Konak square is located in an easily accessible square. It is next to the clock tower in the center of the Konak square. Yali (Konak) Mosque is one of the most elegant mosques of İzmir, attracting attention with its tiles and octagonal plan. Mehmet Pashan's daughter Ayşe Hanim was built in 1755 and repaired in the First World War. After the restoration of the mosque in 1964, which was covered with the outside Kütahya tiles, only the tiles were left on the sides of the doors and windows. It is a charming structure with a single domed and single minaret in classical Ottoman architecture style. Cutting stone was used in octagonal plan mosque architecture.
HISTORICAL RELEVANCE
There is no definite information about who built the mosque on which date. It is said that it took the name "Yalı" because it was at the sea when it was done. In some sources the construction date of the mosque is given in 1755. Some sources include information about the mosque İzmir Mevlana Katipzade Mehmet Pasha's wife Ayşe Hanim, along with a madrasa, built in 1774. It is also known as the "British Ayşe Mosque" because it is known that the family of squatters are closely related to the strangers. The madrasa structure thought to be next to the mosque did not arrive on a day-to-day basis.
INTER-RELIGIOUS RELEVANCE
This mosque is visited by many tourists every year. It is easy to visit because it is in the square in the center of Izmir. The tiles and architecture also attract tourists.
RELIGIOUS INFLUENCE
It represents the religion where it is. Islamic beliefs invite Muslims to "pray" for worship 5 times each day. Muslims who pray when they visit can be seen.
HOW TO USE WITH THE STUDENTS
- Direct visit
Mosque is open to the public for prayer. The students may go on vacation.
- Virtual visit
http://mekan360.com/360fx_konakyalicamii.html
- Classroom activity
While giving information about religions, the inside of the mosque can be watched with virtual tour
REFERENCE TO THE GUIDELINE
MEDIA RESOURCES
VIDEOS
LINKS