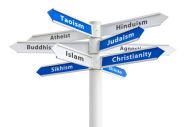 An interactive didactical map interactive didactical map giving access to sites with a religious relevance.
Back to the Religious Sites List
Church of St. John
Selçuk, Turkey
RELIGIONS
Catholic, Protestant, Orthodox
DESCRIPTION OF THE RELIGIOUS SITE
DESCRIPTION
The remains of the church dedicated to St. John the Evangelist that was built by Justinian I in the 6th century AD is located on a hill in the heart of Selçuk (medieval Ephesus). Partly restored church is within the medieval citadel of Ephesus. It is open to visit.
HISTORICAL RELEVANCE
St. John the Evangelist is believed to have died and buried in Ephesus. In the 6th century a monumental church was built by the Byzantine Emperor Justinian I over his tomb replacing the earlier one. The crypt where St. John was thought to have passed away kept was just underneath of the church. This place was an important pilgrimage center in the Middle Ages.
INTER-RELIGIOUS RELEVANCE
The church is not active today and is a cultural heritage to visit but Ephesus, being one of the Seven Churches of Revelation is already an important site for Christians. Moreover this church is built on the tomb of St. John the Evangelist. Therefore local people are aware of the importance of the place from the religious point of view.
RELIGIOUS INFLUENCE
With the exchange of Greek and Turkish population between Greece and Turkey in 1922, there is no Christian population remained. Therefore it is hard to talk about religious influence.
HOW TO USE WITH THE STUDENTS
The didactical relevance and the proposed way to use with the students:
- Direct visit
A direct visit, if possible, would be the best way for students to experience the atmosphere of the place.
- Virtual visit (specify how)
A PPT presentation prepared by the tutor enriched with visuals.
- Classroom activity (pre- and post- visit)
Pre-visit activity: Students should be asked to search for history of Ephesos, especially in Early Christian Era as well as why it is important from the church history point of view paying special attention to life of St. John.
Post-visit activity:
Discussion on why the church is not active today.
REFERENCE TO THE GUIDELINE