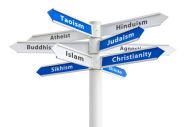 An interactive didactical map interactive didactical map giving access to sites with a religious relevance.
Back to the Religious Sites List
Church of St. Nicholas (Demre, Antalya, Turkey)
Gökyazı Mahallesi, Kolcular Sk., 07570 Demre/Antalya
RELIGIONS
Catholic, Protestant, Orthodox
DESCRIPTION OF THE RELIGIOUS SITE
DESCRIPTION
The church is located in a small town, Demre on the Mediterranean coast of Turkey. This is where once ancient city Myra located. The church is an archaeological site now open to visits as a museum. The church was first built in the 5th century and it was re-built and restored a couple of times. One of the major restoration was made by Byzantine Emperor Constantine I and his wife Zoe in 1042. Most of the frescoes and floor mosaics are from this period. The last one was carried out in 1862 and funded by Russian Tsar Nikolai I. During this restoration a bell tower was constructed and central dome was reconstructed not following the original architectural structure.
HISTORICAL RELEVANCE
There was a church dedicated to him in Constantinople in the 6th century. He is one of the most popular saints of Christendom both in the East and the West. He was a bishop in the 4th century in Myra but many legends related to him became quite popular especially after his first biography became available in the 9th century. He is said to have participated in the First Council held in Nicea in 325. Sailors took relics that were believed to be of him from Myra to Bari (Italy) in 1087 therefore he is also called as St. Nicholas of Bari. One of the famous stories related to him is about providing three girls lacking dowry to get marry by throwing secretly the purses of gold from their window. St. Nicholas as patron saint of children also made him Father Christmas.
INTER-RELIGIOUS RELEVANCE
St. Nicholas is a worldwide known religious character due to his role in Christmas tradition but although being a historical personality, in due course of time he came a fictional character of Santa Claus from polar region distributing presents to the kids. The name Santa Claus was derived from his Dutch Name Sinte Klaas.
RELIGIOUS INFLUENCE
The church dedicated to St. Nicholas has no inter-religious influence but his role in Christmas as present-giver has turned him into a very popular character, especially via worldwide available Hollywood movies. It is quite common to see decorated pin trees in the bigger towns of Turkey before New Year's eve (not Christmas) under which the presents are set. On the other hand conservatives criticize celebrations of the New Year confusing it with Christmas.
HOW TO USE WITH THE STUDENTS
- Direct visit
A direct visit, if possible, would be the best way for students to experience the atmosphere of the place.
- Virtual visit (specify how)
A PPT presentation prepared by the tutor enriched with visuals.
- Classroom activity (pre- and post- visit)
Pre-visit activity: Students should be asked to search for who St. Nicholas was and his connection with Christmas.
They should also be asked to search how St. Nicholas from Asia Minor ended up living in the North Pole.
Post-visit:
Discussion on why St. Nicholas is important for the Russians.
Discussion on how the church, being a tourist attraction can help in mutual understanding as a tool for inter-religion relations.
REFERENCE TO THE GUIDELINE