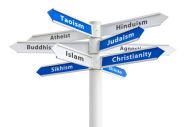 An interactive didactical map interactive didactical map giving access to sites with a religious relevance.
Back to the Religious Sites List

Rosslyn Chapel, Scotland
Rosslyn Chapel, Chapel Loan, Roslin, Midlothian, EH25 9PU
RELIGIONS
Catholic, Protestant
DESCRIPTION OF THE RELIGIOUS SITE
DESCRIPTION
One of Scotland's most remarkable buildings, Rosslyn Chapel has been in the ownership of Rosslyn family since its foundation in 1446 and is still used today as a place of worship. In 1995, the Rosslyn Chapel Trust was established, a charity to care for the Chapel by overseeing its ongoing conservation and public opening.
HISTORICAL RELEVANCE
Rosslyn Chapel was founded in 1446 as a place of worship and services continue to be held here weekly. The Chapel has also been a popular destination for visitors for generations. By the late 18th-century, it was starting to appear on itineraries and its profile greatly increased after the publication of Dan Brown's novel, The Da Vinci Code, in 2003, and the subsequent film. Rosslyn Chapel Trust was established in 1995 to care for the Chapel and oversee its conservation and public access.
INTER-RELIGIOUS RELEVANCE
There are possible links to the Knights Templar and the Crusades. The Order of the Temple was founded around 1118 in Jerusalem. The city had been liberated from the Saracens during the First Crusade in 1099 and it was once again a holy place of pilgrimage for Christians. Hugh (or Hugues) de Payens, and seven or eight fellow Knights, founded the Order to protect Pilgrims travelling to the Holy Land.
RELIGIOUS INFLUENCE
There are links to the Temple of Solomon in Jerusalem, but over the centuries, the land on which the Temple stood has been fought over by Jews, Christians and Muslims, all of whom regard it as a holy place. Muslims believe that the Prophet Mohammed ascended to heaven by climbing a ladder of light rising from a sacred stone which had been part of Solomon's Temple.
HOW TO USE WITH THE STUDENTS
- Organising a direct visit
- Work experience
- Classroom activity (pre- and post- visit)
- Using this extraordinary medieval building of 'curiosity' and 'splendour' as a place of interactive and engaging learning.
- Digital tour
REFERENCE TO THE GUIDELINE
LINKS