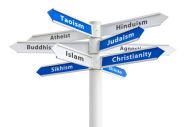 An interactive didactical map interactive didactical map giving access to sites with a religious relevance.
Back to the Religious Sites List
Cambridge Gurdwara
150 Arbury Rd, Cambridge CB4 2JQ
DESCRIPTION OF THE RELIGIOUS SITE
DESCRIPTION
The Gurdwara is a focal point for the local Sikh community including students, professionals and the wider local community in order to capture the forward needs of the Sangat and communicate progress as the Gurdwara's activities develop.
HISTORICAL RELEVANCE
The formal inauguration of the Cambridge Gurdwara in 2013 was attended by the local Sangat (congregation) in great numbers, key dignitaries from the Cambridge political scene and eminent Sikh personalities throughout the UK. The whole event was covered live by the Sikh Channel (TV), BBC Radio and both international and local press. Since the opening of the Cambridge Gurdwara in January 2013, the Sangat has maintained a fully functioning Gurdwara. This has included daily morning Nitnem and evening Rehraas congregational worship, and a main Sunday congregation involving Keertan, Paath and Langar activities.
INTER-RELIGIOUS RELEVANCE
The Gurdwara provides education and opportunities for scholarship on the Sikh language and script (Gurmuki), recitation of the Sikh hymns and music (Shabad Gurbani), and studies on its scripture, ethics, customs and traditions. The Gurdwara is also a community centre which offers support in terms of food, shelter, and companionship to those who need it.
RELIGIOUS INFLUENCE
Resident Giani's have also enabled access to religious services as required throughout the day. Keertan classes are held every Sunday afternoon by Ustad Bhai Satwinder Singh Ji and Jatha.
HOW TO USE WITH THE STUDENTS
Direct visit
REFERENCE TO THE GUIDELINE
MEDIA RESOURCES
LINKS