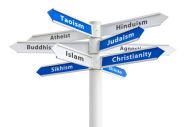 An interactive didactical map interactive didactical map giving access to sites with a religious relevance.
Back to the Religious Sites List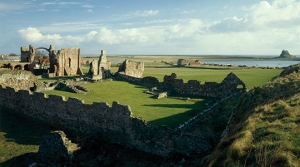 Lindisfarne
Holy Island, Berwick-upon-Tweed TD15 2RX
DESCRIPTION OF THE RELIGIOUS SITE
DESCRIPTION
Lindisfarne, also known as Holy Island, was one of the first landing sites of the Vikings. Monasteries were places where monks lived and worshipped. Most people respected the monks and gave them money and gifts for their monasteries; however, the Vikings committed terrible violence against the Monks at Lindisfarne. The extensive ruins visible today are dominated by the 12th-century priory church, which probably stands on the same spot as its Anglo-Saxon predecessor. The associated monastic buildings were modified in the later Middle Ages in response to the changing needs and numbers of the monks. The priory church was built by about 1150. Changes in the stonework suggest that the east end, crossing and two bays of the nave were completed first; the nave was then extended and the west front built in a second phase. Its architecture recalls that of the Romanesque cathedral at Durham, to reinforce the links between Lindisfarne and its mother-church.
HISTORICAL RELEVANCE
Lindisfarne – also known as Holy Island – is one of the most important centres of early English Christianity. Irish monks settled here in AD 635 and the monastery became the centre of a major saint's cult celebrating its bishop, Cuthbert. The masterpiece now known as the Lindisfarne Gospels was created here in the early 8th century. The ruins now visible are those of a 12th-century priory, which claimed direct descent from the early monastery. The Lindisfarne Gospels were made here in the early 8th century, when the monks were beginning in earnest to promote the cult of St Cuthbert. It is one of the most beautiful and intricate manuscripts ever produced, and shows that this period was anything but a 'dark age'. The Lindisfarne Gospels assimilate the spiritual and cultural influences of Ireland, Rome and the Germanic world of the Anglo-Saxons.
INTER-RELIGIOUS RELEVANCE
Lindisfarne was one of the most important places in Anglo-Saxon England. Its bishops had close links to the Northumbrian kings who ruled from nearby Bamburgh. The monks' guardianship of the shrine of St Cuthbert brought great wealth to the monastery. The architecture of the 12th-century priory founded on the site of the earlier monastery resembled the great Romanesque cathedral at Durham, visually reinforcing the connection between cathedral and monastery.
RELIGIOUS INFLUENCE
Lindisfarne Priory on Holy Island was one of the most important centres of early Christianity in Anglo-Saxon England. It is still a place of pilgrimage today, the dramatic approach across the causeway adding to the fascination of the site.
HOW TO USE WITH THE STUDENTS
REFERENCE TO THE GUIDELINE
MEDIA RESOURCES