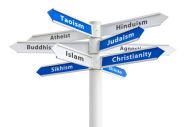 An interactive didactical map interactive didactical map giving access to sites with a religious relevance.
Back to the Religious Sites List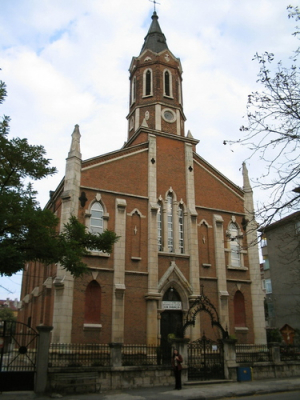 The St Paul of the Cross Cathedral, Rousse
the city of Rousse, Northeastern Bulgaria.
DESCRIPTION OF THE RELIGIOUS SITE
DESCRIPTION
The St Paul of the Cross Cathedral (in Bulgarian: Катедрален храм "Свети Павел от Кръста", Katedralen hram "Sveti Pavel ot Krasta") is a Roman Catholic cathedral in the city of Rousse in northeastern Bulgaria. It is the cathedral church of the Nikopol diocese and it is dedicated to Saint Paul of the Cross, founder of the Passionists.
HISTORICAL RELEVANCE
Built in 1890 to the designs of the Italian architect Valentino, the cathedral is an example of Gothic Revival architecture (and Brick Gothic in particular) in the country. The interior is decorated with sculptures and stained glass windows. It was the cathedral church of Blessed Eugene Bossilkov, bishop of Nicopoli, executed by the communists in 1952.
INTER-RELIGIOUS RELEVANCE
The pipe organ of the cathedral was installed in 1907. It is the only one of its kind (with pneumatic action and with a Romantic sound) in Southeastern Europe, and was produced by the Voit company from Karlsruhe. It has two manuals and 13 stops. The instrument was damaged by the 1977 Bucharest earthquake and it was fully restored in 2004.
RELIGIOUS INFLUENCE
The St Paul of the Cross Cathedral is located on street Episkop Bozilkov in city of Ruse. It is a Romainic-Catholic church dedicated to Saint Paul and built in 1892. The project is of the Italian architect - Valentino (designed also the Catholic Church in Varna). The temple is in Neo-Gothic style and has 31 meter high bell-tower. The cathedral hosts the oldest in Bulgaria preserved organ that was installed here in 1907.
HOW TO USE WITH THE STUDENTS
The students need to visit the church in order to feel the spirit of Western Europe in a Balkan country.
REFERENCE TO THE GUIDELINE
MEDIA RESOURCES
VIDEOS
LINKS