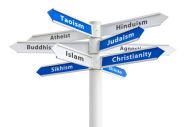 An interactive didactical map interactive didactical map giving access to sites with a religious relevance.
Back to the Religious Sites List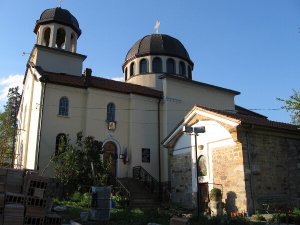 Church "Saint Dimitar Thessalinian Wonder Worker"
in the town of Godech
DESCRIPTION OF THE RELIGIOUS SITE
DESCRIPTION
Church "Saint Dimitar Thessalinian Wonder Worker" in town of Godech is dated to XVII century. During the Ottoman domination it was destroyed by kardjalii and was restored again in 1836 with a donation of local donors. Right at the entrance, high in the construction, there is a stone with engraved year 1836. In the beginning of XX century (1937) near the old church was built large new church bearing the same name "St. Dimitar".
HISTORICAL RELEVANCE
The church is located near the town center. It is one-nave, one-apse building with a semi-cylindrical vault. The church was built of stones cemented with mortar. In the construction were used architectural elements taken from the ancient temple in the "Monastery of Sveti Nikola" locality.
INTER-RELIGIOUS RELEVANCE
The church was decorated with scenes from the Gospel. The preserved icons are dated to XIX century and in them can be found elements similar to works of masters from Samokov and Bansko Schools of Art. The iconostasis is dated to the 30s of XIX century and consists of 3 sections: large icons, rounded medallions and images of the Apostles, situated on both sides of the stage.
RELIGIOUS INFLUENCE
Some of the most valuable items stored here are the icon of Christ Pantocrator since 1836, and one of the first edition of "Nedelnik" from Sophronius of Vratsa. There are tomb monuments of 1899 and 1912 behind the church.
HOW TO USE WITH THE STUDENTS
The students should visit the church.
REFERENCE TO THE GUIDELINE
MEDIA RESOURCES
VIDEOS
LINKS