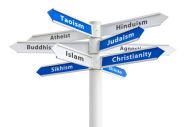 An interactive didactical map interactive didactical map giving access to sites with a religious relevance.
Back to the Religious Sites List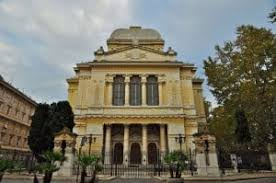 Jewish Museum of Rome
Via Catalana, Rome
DESCRIPTION OF THE RELIGIOUS SITE
DESCRIPTION
The Jewish Museum of Rome shows two thousand years of history of the Roman Jewish community, and of its extraordinary connection with the city. It is located in the monumental complex of the "Tempio Maggiore", built in the area of what was the Jewish ghetto of Rome. The Museum is also a meeting point, a place where culture, dialogue and love for beauty are shared. It's a unique point of reference to discover the traditions, the religion, the culture and the two thousand year history of Roman Jews, belonging to one of the oldest communities in the world.
HISTORICAL RELEVANCE
The Jewish Museum of Rome is located inside the Jewish Ghetto Synagogue. During the visit you can admire the silvers of the Jewish people of the seventeenth and eighteenth centuries, the clothes and vestments worn for their rituals by Italian Jews, which differ from other Jewish rites, the Cinque Scole marbles (five synagogues of the Jewish ghetto of Rome ), the monuments of fascist propaganda against the Jews and other objects that marked the years of war during which almost two million Jews were deported and killed. Precisely because of the beauties and the particularity of the objects that it exhibits, the Jewish Museum of Rome is considered a landmark for those who want to learn about the history, the culture and the traditional festivals of the two thousand year history of the Roman Jews.
INTER-RELIGIOUS RELEVANCE
In the history of the Jewish community in Italy there are Jews of different rites (with the arrival of the Jews expelled from Spain, Sicily and Portugal, starting from 1492, Sephardic customs - that coexisted with those of the local tradition - were introduced in Rome). During the visit to the museum it is possible to understand the different cultural and ethnic history of two different Jewish communities: Italians and Sephardim.
RELIGIOUS INFLUENCE
The Jews influenced and were influenced by the cultures of the countries in which they settled because of the terrible persecutions they were subjected to: from the "Babylonian Captivity" in the VIII-VII centuries BC, to the fascist and Nazi persecution, passing through the great expulsion of the Sephardic Jews (settlers from the Near East) from the Iberian Peninsula by the Spanish Inquisition.
HOW TO USE WITH THE STUDENTS
CONNECTION WITH OTHER RELIGIOUS SITES
REFERENCE TO THE GUIDELINE