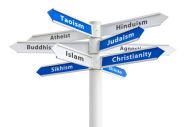 An interactive didactical map interactive didactical map giving access to sites with a religious relevance.
Back to the Religious Sites List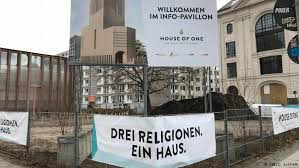 Interreligious site
Berlin, Petriplatz
RELIGIONS
Judaism, Catholic, Islam
DESCRIPTION OF THE RELIGIOUS SITE
DESCRIPTION
The House of One. Three Religions under one roof. Jews, Christians, and Muslims are planning to build a house of worship here – one that brings a synagogue, a church, and a mosque together under one roof. The three separate sections will be linked by a communal room in the center of the building. This will serve as a meeting place, where worshippers and members of the public can come together and learn more about the religions and each other.
HISTORICAL RELEVANCE
The House of One is a contemporary expression of religious life and as such must be expressed in an equally modern architectural language. Learn more about the design of the Berlin based architects Kuehn Malvezzi.
INTER-RELIGIOUS RELEVANCE
In the past, different faiths have used the same buildings but not usually at the same period. Mosques in southern Spain became cathedrals after the Christian conquest. In Turkey, churches became mosques. In Britain old Welsh chapels have sometimes become mosques as areas change - and Brick Lane mosque in the East End of London started as a church in the 18th Century, later became a synagogue before turning to Islam, and has now become a place of worship for the newly arrived Muslim community.
RELIGIOUS INFLUENCE
the project 's aim is to encourage a conscious dialogue between different faiths and cultures, which would help prejudices against Muslims to evaporate.
HOW TO USE WITH THE STUDENTS
Website virtual visit
Reading of documents
Research of similar sites
REFERENCE TO THE GUIDELINE