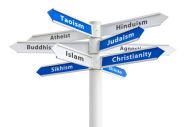 An interactive didactical map interactive didactical map giving access to sites with a religious relevance.
Back to the Religious Sites List
Gelibolu, Canakkale
40° 19´ 59" N, 26° 30´ 00" E
RELIGIONS
Judaism, Catholic, Protestant, Islam
DESCRIPTION OF THE RELIGIOUS SITE
DESCRIPTION
Gallipoli is a peninsula on the western side of the Dardanelles. This is where one of the bloodiest wars of human history took place. The whole peninsula is covered with graveyards holding thousands tombs of soldiers of different ethnicity and of different faiths.
HISTORICAL RELEVANCE
Gallipoli is not a temple, church, synagogue or a mosque but a ground holding thousands of tombs of soldiers from different faiths that happened to be killed while fighting. The war took place between 19 February 1915 and 9 January 1916 during WWI. Although the Ottomans won at Gallipoli, they lost the war. It was the Ottomans against the British and the French forces all of which consisted of soldiers of different ethnicity and faith.
INTER-RELIGIOUS RELEVANCE
The vast site of Gallipoli peninsula has quite an impressive atmosphere. Although the main motive of the war was not religion as it was the case of the Crusades, the presence of thousands of graves on both sides moves any visiting soul. It is just a perfect location to think of the bloodshed people experienced no matter what the reason was and to ask "was it necessary?" or "why on earth those young souls lost their lives?"
RELIGIOUS INFLUENCE
There is no specific religious influence to speak of.
HOW TO USE WITH THE STUDENTS
- Direct visit
If possible, a direct visit would be of most value.
- Virtual visit (specify how)
A virtual visit by PPP prepared by the teacher.
- Classroom activity (pre- and post- visit)
A pre-visit research on WWI and Gallipoli.
Post-visit discussion can be on the motives behind Gallipoli War and if this had a religious (or economic) motive behind. The discussion can be extended towards the real motive behind the so called religious wars and role of faith in motivation the soldiers.
REFERENCE TO THE GUIDELINE