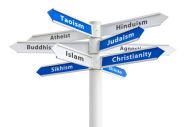 An interactive didactical map interactive didactical map giving access to sites with a religious relevance.
Back to the Religious Sites List
Tokali Church, Cappadocia
Goreme Open Air Museum Merkez, Müze Cd., 50180 Göreme Belediyesi/Nevşehir Merkez/Nevşehir, Turkey
DESCRIPTION OF THE RELIGIOUS SITE
DESCRIPTION
This rock cut church is one of the many in the region and is one of the largest. The single nave entrance (old church) leads to transverse nave with three apses (new church). The frescoes on the walls are dated to the reign of Phocas II (963-69) and they depict scenes from thr New Testament as well as saints.
HISTORICAL RELEVANCE
Having located in central Anatolia, the region is on the cross-section of trade route since ancient times. This was where Christianity found early roots. St. Paul visited the region on the way to Ancyra. While the softer structure of the volcanic ash soil provided the region a supernatural look due to erosion throughout the ages, this softness became a advantage for the local people to build (actually to dig out) their dwellings as well as the churches. In the region the Muslims and Christians lived together for centuries until the population exchange after WWI.
INTER-RELIGIOUS RELEVANCE
In the multi-ethnic and multi-religion texture of the Ottoman Empire, the region is a very fine example of co-existence where Islamic and Christian monuments still attract visitors. Today, quite a number of local people depend on tourism for their income whereby architectural witnesses of this co-existence form the major part of the attraction.
RELIGIOUS INFLUENCE
There is no specific religious influence to speak of.
HOW TO USE WITH THE STUDENTS
- Direct visit
If possible, a direct visit would be of most value.
- Virtual visit (specify how)
A virtual visit by PPP prepared by the teacher.
- Classroom activity (pre- and post- visit)
A pre-visit research on rock cut temples if there is any in their region.
Post-visit discussion can be on what kind of material used for the construction of the temples.
REFERENCE TO THE GUIDELINE