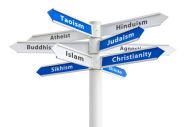 An interactive didactical map interactive didactical map giving access to sites with a religious relevance.
Back to the Religious Sites List
French Church, Bursa
Fransız Kilisesi Kültür Evi, Necatibey Meslek Lisesi Karşısı, Heykel, Bursa 40°10'49.66"N 29° 3'58.43"E
RELIGIONS
Catholic, Protestant, Orthodox
DESCRIPTION OF THE RELIGIOUS SITE
DESCRIPTION
Built in 1880's to serve the French Catholic community in Bursa. This church is the only one still functioning in Bursa for different congregations. It is church with single nave. The bastions attached to the main body as well as the windows resemble Neo-Gothic style that was popular then. Within the church complex there was a dispensary, an orphanage, a hospital and a school. The monument was restored lately and opened as a cultural center in 2004 in which different congregations (Protestants, Catholics and Orthodox) hold masses.
HISTORICAL RELEVANCE
Bursa was an important trade center during the Ottoman era with multi-ethnic and multi-religion population. The potential of profit for traders attracted many from Europe who came and settled down in the Ottoman Empire. They are called Levantines. This church was built to serve the French community in town. The population of the city of Bursa is overwhelmingly Sunni Muslim and the city has a reputation of being conservative. Being the second capital of the Ottomans, especially the historical center of the city is full of monuments from the Ottoman era as well as the tombs of Sultan Osman after whom the Ottomans are named and his son Sultan Orhan.
INTER-RELIGIOUS RELEVANCE
The church is now used by different sects of Christianity (Protestant, Catholic and Orthodox) but also functions as a cultural center. Therefore from the use of the space, an inter-religious relevance among different sects of Christianity can be discussed.
RELIGIOUS INFLUENCE
There is no religious influence to speak of.
HOW TO USE WITH THE STUDENTS
- Direct visit
This is the ideal way but a virtual visit through a PPP presentation prepared by the teacher is also possible.
- Virtual visit (specify how)
A virtual visit through a PPP presentation prepared by the teacher is also possible.

- Classroom activity (pre- and post- visit)
Pre-visit: A research on the role of religious communities in improvement of daily life of a society in building hospitals, schools, public kitchens etc.

Post-visit: Discussion on the importance of social buildings like schools, hospitals etc. and how they are used in promoting certain faith.
REFERENCE TO THE GUIDELINE
LINKS