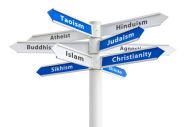 An interactive didactical map interactive didactical map giving access to sites with a religious relevance.
Back to the Religious Sites List
St. Panteleimon Church, Bursa
Gölyazı mah. 2 no'lu çıkmaz sokak Nilüfer/Bursa, Turkey
DESCRIPTION OF THE RELIGIOUS SITE
DESCRIPTION
The church of St. Panteleimon is in Gölyazı district of Bursa. According to some sources it was a church dedicated to St. Georgios). Gölyazı was founded on a peninsula on Lake Ulubat. This is where the Greek Orthodox and Muslim Turks lived together. It was one of the three Greek Orthodox church in town. It was built in late 19th century and a date, 1903, found during the restoration works is probably when the construction finished. It is a basilical church with three naves. Naves were divided by wooden supports of which only two survived. During the restoration works, solid oak supports were used as it was in the original. The apse is surrounded by a single stepped synthronon. There are six windows on either side illuminating the interior.
HISTORICAL RELEVANCE
The church is a cultural heritage of a society that once experienced a rich multi-ethnic and multi-religious living. It is a witness of a Greek Orthodox community once living here just like the Muslim communities living in today's Greece or the countries in the Balkans that were forced for an population exchange due to political reasons.
INTER-RELIGIOUS RELEVANCE
Since the building is not a church anymore but a cultural center, there is no inter-religious influence but its architecture till reminds its religious past.
RELIGIOUS INFLUENCE
There is no religious influence to speak of.
HOW TO USE WITH THE STUDENTS
- Direct visit
This is the ideal way but a virtual visit through a PPP presentation prepared by the teacher is also possible.
- Virtual visit (specify how)
A virtual visit through a PPP presentation prepared by the teacher is also possible.

- Classroom activity (pre- and post- visit)
Pre-visit: A research on once religious monuments serving in a different function now.

Post-visit: Discussion on religious monuments that are no longer use for religious ceremonies but for different reasons.
REFERENCE TO THE GUIDELINE
LINKS