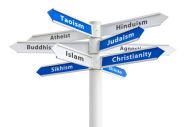 An interactive didactical map interactive didactical map giving access to sites with a religious relevance.
Back to the Religious Sites List
Laodicea
37°50′09″N 29°06′27″E
RELIGIONS
Catholic, Protestant, Orthodox
DESCRIPTION OF THE RELIGIOUS SITE
DESCRIPTION
Seleucus Antiochos II founded the city in the 3rd century BCE and it after her wife, Laodike, city soon became an important commercial center on the southern banks of Lycus Valley. Today it is 6 kms north of Denizli. It is a site of an archaeological excavation providing an impressive sight of a late antique settlement. A major discovery was made in Laodicea in 2010. By using radar, the researchers were able to locate the position of the church, occupying an area of 2,000 square meters. The head of excavations in Laodicea, Celal Şimşek, gave information that this building was erected in the 4th century. The church in Laodicea was opened to the public in 2016, after intensive excavation and restoration. It is still advertised as "one of the seven oldest churches in Anatolia," and even as "the seventh oldest church in the world." Celal Şimşek expressed the hope that as a major archaeological sensation, this building will attract to Laodicea pilgrims from around the world, as well as many of the tourists visiting the nearby Pamukkale (
http://turkisharchaeonews.net/site/laodicea-lycus
)
HISTORICAL RELEVANCE
Laodicea was one of the Seven Apocalyptic Churches mentioned in the Bible. Being referred as a community when the Bible was written is already an important reference for the importance of the city in that time.
INTER-RELIGIOUS RELEVANCE
This is an archaeological site where there is no population living. On the other hand the region (together with Pamukkale and Hierapolis) attracts quite a number of tourists among which there are Christian visitors who pay a visit for religious purposes. The industrial town of Denizli is overwhelmingly Muslim with no significant representatives of other faiths. Therefore there is no inter-religion relevance to speak of. On the other hand tourism is quite important for the local people. The popularity of the site for Christians may lead them to think that where they live now was once an important location for another faith.
RELIGIOUS INFLUENCE
There is no religious influence to speak of.
HOW TO USE WITH THE STUDENTS
Please describe the didactical relevance and the proposed way to use with the students:
- Direct visit
This is the ideal way but a virtual visit through a PPP presentation prepared by the teacher is also possible.
- Virtual visit (specify how)
A virtual visit through a PPP presentation prepared by the teacher is also possible.

- Classroom activity (pre- and post- visit)
Pre-visit: Research on religious buildings as tourist attraction.

Post-visit: Discussion on the role of religious monuments as tourist attractions and the ethics of tourism business selling visits to religious sites and shops selling religious item part of their daily business.
REFERENCE TO THE GUIDELINE
LINKS