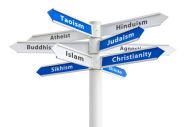 An interactive didactical map interactive didactical map giving access to sites with a religious relevance.
Back to the Religious Sites List
Antakya Synagogue
Kurtuluş Cad. No:56 Antakya / HATAY
DESCRIPTION OF THE RELIGIOUS SITE
DESCRIPTION
On the facade of the city's only synagogue, a star of David is inscribed on the modest structure, which blends comfortably in the neighbourhood it has set in for the last 250 years, just across the street from a Mosque and a Catholic church. The door opens to an empty, small cobblestone courtyard with a few sparse trees and a plain stone building where the men gather to pray every week. The floor is made of marble, and a rich blue curtain with golden inscription covers the ark. The building was erected in 1890. Because Antakya is North of Jerusalem, the synagogue is built with the Torah Ark on the southern wall with a semi-circular apse.
HISTORICAL RELEVANCE
Antioch was an important city on the crossroads of the trade routes from the east, south, north and the west. It was and still is an important city for history of Christianity. There was an important Jewish community here but there are only few left still living in the town.
INTER-RELIGIOUS RELEVANCE
The town of Antakya (Antioch) is regarded as one of the best example of multi-ethnic and multi-religious existence and this synagogue reveals that fact. Unfortunately Jewish population is no longer there contributing daily life of co-existence since most of them either moved to bigger towns or to Israel.
RELIGIOUS INFLUENCE
There is no religious influence to speak of.
HOW TO USE WITH THE STUDENTS
Please describe the didactical relevance and the proposed way to use with the students:
- Direct visit
If possible, a direct visit would be of most value.
- Virtual visit (specify how)
A virtual visit by PPP prepared by the teacher.
- Classroom activity (pre- and post- visit)
A pre-visit research: Research if there is a diminishing population of a faith in the region.

- Post-visit discussion: Why members of a certain faith move from a different region. How does decreasing number of a certain faith affect the inter-religious life in a certain location.
REFERENCE TO THE GUIDELINE
MEDIA RESOURCES
LINKS