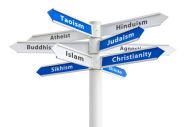 An interactive didactical map interactive didactical map giving access to sites with a religious relevance.
Back to the Religious Sites List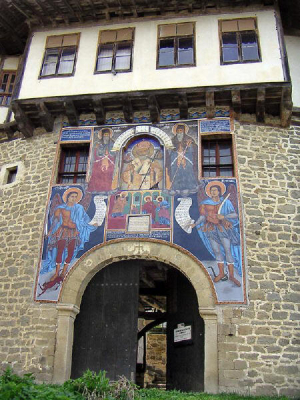 Kapinovo Monastery
Kapinovo Monastery, с. Велчево 222, 5032 с. Велчево, Bulgaria
DESCRIPTION OF THE RELIGIOUS SITE
DESCRIPTION
Kapinovo Monastery is situated on the bank of the Vesselina River, 14 km south of Veliko Tarnovo. The monastery is about 2 km away from its twin monastery of Plakovo. Kapinovo Monastery is an active religious complex with two chapels, residential and commercial buildings.The St. Nicholas Church dates back to the end of the 17th and the beginning of the 18th century. It is a one-nave, one-apse, non-buoyant building with a large naxos and antechamber, complemented by a patio with wooden columns and railings. In 1845. the monastery church was painted, the most spectacular since then was the composition of the "Court of Justice", made by Ivan Popovic. The earliest monument of painting originating from the Kapinovo Monastery is the so-called "Kapinovski House" from 1700, preserved today at the National Archaeological Museum in Sofia. There are icons from 18 and 19 c. The carved 18 century iconostasis and Episcopal throne are also notable. There is also a blessed spring in the patio of the cloister.
HISTORICAL RELEVANCE
Kapinovo Monastery was founded in 1272, during the reign of King Constantine Assen (1257-1277). The monastic chapel was dedicated to the Holy Trinity. During this period, the monastery was an important religious and educational center. After the fall of Bulgaria under Ottoman rule it was destroyed and abandoned. After periods of revival and devastation, the Kapinovo monastery was finally reestablished in 1835. The church of St. Nicholas the miracle worker was built.
INTER-RELIGIOUS RELEVANCE
The monastic brotherhood took an active role in the fight for national independence in the era of the Bulgarian Revival. From March to September 1794 the abbot of the monastery was Saint Sophronius of Vratsa. He brought his famous copy of "Slavonic-Bulgarian History" Saint Paisius of Hilendar. Kapinovo Monastery was an important spiritual and cultural center during the turbulent 19 century. A religious school was opened. Detachments of the rebel fighters of Captain Dyado Nikola, Hadji Stavry Koinov, Philip Totyu, as well as Vasil Levski, Angel Kanchev and Matei Preobrazhenski - Mitkaloto found a refugee at the monastery at different times.
RELIGIOUS INFLUENCE
The two chapels of the monastery are popular places for wedding rituals and baptisms. Worshipers gather for the holly mass on the holiday of Saint Nicholas the miracle worker.
HOW TO USE WITH THE STUDENTS
- Direct visit
- Virtual visit (specify how) - photos
- Classroom activity (pre- and post- visit) Spiritual, Moral, Social and Cultural Development of Students
https://bit.ly/2KUBywQ
REFERENCE TO THE GUIDELINE
MEDIA RESOURCES
VIDEOS
LINKS