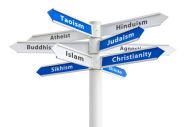 An interactive didactical map interactive didactical map giving access to sites with a religious relevance.
Back to the Religious Sites List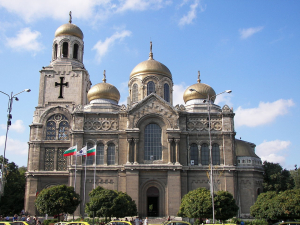 Dormition of the Theotokos Cathedral
pl. "Sveti Sveti Kiril I Metodiy" 2, 9000 Hristo Botev, Varna, Bulgaria
DESCRIPTION OF THE RELIGIOUS SITE
DESCRIPTION
The Dormition of the Theotokos Cathedral is the second largest Orthodox temple in Bulgaria, surpassed in size only by Saint Alexander Nevsky Cathedral in Sofia. It was officially opened on 30 August 1886. It is the residence of the bishopric of Varna and Preslav and one of the symbols of the city Varna. According to the project, the cathedral is a three-navel cross-domed basilica with two aisles. The size of the main hall is 35 by 35 m. The main altar is dedicated to the patron saint Virgin Mary, the north one to Saint Alexander Nevsky and the south one to Saint Nicholas the Miracle Worker. The Dormition of the Theotokos Cathedral is considered to be an architectural monument of national importance.
HISTORICAL RELEVANCE
The first one to point out the need for a cathedral church that would suit the needs of the growing Orthodox population of Varna was the Russian Knyaz Dondukov-Korsakov. A commission dedicated to the planning of all aspects of the construction work and fundraising was elected with the help of Metropolitan Simeon. The expenses were covered by municipal funds and private donations as well as a special nationwide lottery, issuing 150 000 tickets. The foundation stone was laid by Bulgarian Knyaz Alexander on 22 August 1880 after a solemn ceremony and prayer in front of a crowd of Bulgarians and Armenians. The Knyaz gave amnesty to all the local prisoners that had three months or less left to spend in prison. The large cathedral was erected in less than 6 years. Its architecture, beauty and scale were unparalleled in Bulgaria at the times. The first Divine Liturgy was served on the 30th of August 1886. For a quarter of a century The Dormition of the Theotokos Cathedral remained the largest and most important Christian temple in Bulgaria.
INTER-RELIGIOUS RELEVANCE
The Dormition of the Theotokos Cathedral was constructed a decade after the liberation of Bulgaria from Ottoman rule and it immediately became one of the symbols of Bulgarian Christianity and an object of great national pride. In 1901, Tsar Nicholas II of Russia donated 3 large and 42 small Orthodox icons painted by the artist Nicholay Bogoshki. The Tsar sent another 8 icons to Bulgaria three years later.
RELIGIOUS INFLUENCE
The Dormition of the Theotokos Cathedral is dedicated to the Holy Mother of God. The temple celebrates its patron saint on the 15th of August. This date has also been adopted as the city holiday of Varna. The divine liturgies on Easter are important dates of the church calendar, drawing large crowds of believers to the temple. The cathedral is also the most preferred place for engagement and marriage ceremonies in the city.
HOW TO USE WITH THE STUDENTS
CONNECTION WITH OTHER RELIGIOUS SITES
REFERENCE TO THE GUIDELINE
MEDIA RESOURCES