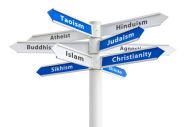 An interactive didactical map interactive didactical map giving access to sites with a religious relevance.
Back to the Religious Sites List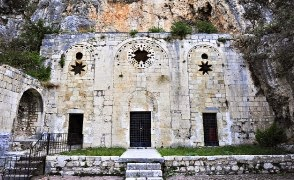 Church of Saint Peter
Küçükdalyan Mahallesi, Sen Piyer Cad Haraparası, 31120 Antakya/Hatay
DESCRIPTION OF THE RELIGIOUS SITE
DESCRIPTION
The Church of Saint Peter near Antakya (Antioch), Turkey, is composed of a cave carved into the mountainside on Mount Starius with a depth of 13 m (42 ft.), a width of 9.5 m (31 ft.) and a height of 7 m (23 ft). This cave, which some believe was used by the very first Christians, is one of Christianity's oldest churches.
HISTORICAL RELEVANCE
The oldest surviving parts of the church building date from at least the 4th or 5th century; these include some pieces of floor mosaics, and traces of frescoes on the right side of the altar. The tunnel inside which opens to the mountainside is thought to have served the Christians for evacuation of the church in case of sudden raids and attacks. Water which seeps from the nearby rocks was gathered inside to drink and to use for baptism; flow of this water, which visitors drank and collected to give to those who were ill (believing that it was healing and curative), has lessened as a result of recent earthquakes.
INTER-RELIGIOUS RELEVANCE
The church is a museum today, but it is possible to perform worship services inside the church under the inspection of the Museum Management by obtaining a permit from the Office of the Provincial Governor.
RELIGIOUS INFLUENCE
Some people believe that the founding of the church in Antioch can be traced to the Biblical Acts of the Apostles (11:25-27), which relates that Barnabas travelled to Tarsus to bring Paul the Apostle there. They worked for a year with the nascent Christian community, and their adherents to the faith were called "Christians" for the first time. Christian tradition considers the apostle Peter to be the founder of the church of Antioch and the first priest of the Christian population established there; the Church of St. Peter is traditionally considered to be at the place where he first preached the Gospel in Antioch.
HOW TO USE WITH THE STUDENTS
Direct visit is allowed.
REFERENCE TO THE GUIDELINE