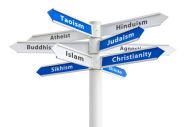 An interactive didactical map interactive didactical map giving access to sites with a religious relevance.
Back to the Religious Sites List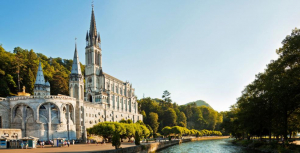 Sanctuaires de Lourdes
1 Avenue Mgr Théas, 65108 Lourdes
DESCRIPTION OF THE RELIGIOUS SITE
DESCRIPTION
The Sanctuary of Our Lady of Lourdes is one of the first destinations of Catholic pilgrims in the world. It includes a shrine, that is, the Grotto in which the 14 years-old Bernadette Soubiroux saw the Virgin Mary in 1858, other grottos Churches and hosts various associations and communities.
HISTORICAL RELEVANCE
Since 1858, Lourdes went from a modest town to a key city with strong tourism, religious activities, and economic center. This is mainly due to the pilgrimage occurring for religious reasons, as millions of pilgrims travel to Lourdes each year.
INTER-RELIGIOUS RELEVANCE
Considering Mary is a religious figure for other religions than Roman Christianity, as she is an important figure for other Christian churches and for Islam, it could be interesting to study places dedicated to her.
There is also an Ukrainian church, St. Mary's Ukrainian Catholic Church, with a Byzantine interior.
RELIGIOUS INFLUENCE
Lourdes is a key centrer of worship in France, with many religious and cultural events being organized each year.
HOW TO USE WITH THE STUDENTS
For possible activities, you can refer to the Lourdes sanctuary website.
CONNECTION WITH OTHER RELIGIOUS SITES
Blessed Virgin Mary monument - Haskovo, Bulgaria
Church of St. Mary, İzmir - 1349 Sok. No. 6 Alsancak, İzmir
Ensemble avec Marie - No precise address, many local sites in France and the meetings take place in different places each time
House of the Virgin Mary - Sultaniye Mahallesi, 35922 Selçuk, İzmir
Kings Lynn: Church of St. Mary and St. Felix - Babingley, Sandringham Estate, King's Lynn, Norfolk, PE31 6AW
REFERENCE TO THE GUIDELINE
MEDIA RESOURCES
VIDEOS