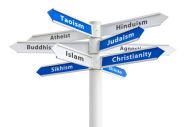 An interactive didactical map interactive didactical map giving access to sites with a religious relevance.
Back to the Religious Sites List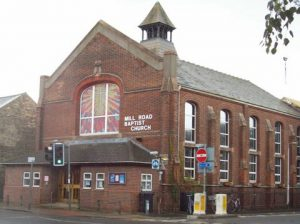 Mill Road Baptist Church, Cambridge
178 Mill Road Cambridge, CB1 3LP, United Kingdom.
DESCRIPTION OF THE RELIGIOUS SITE
DESCRIPTION
Mill Road Baptist Church is a lively, multicultural, Baptist church situated on Mill Road in the Romsey Town area of Cambridge UK.
HISTORICAL RELEVANCE
One day during the 1800's a group of people from St Andrews Street Baptist Church Cambridge, were walking along Mill Road on their way to visit the Baptist Church in Cherry Hinton, when going over the Railway Crossing (where the Bridge now stands) they noticed rows of small terraced houses being built for railway workers, and thought it would be a good place to plant a new Church. A piece of land was purchased and a small Church built, the first Service being held in 1881.nOn the 1st July 1885, the Foundation Stone of the present Building was laid. A small Hall was built on land at the rear of the Church to be used for meetings and a Sunday School.nOne night during World War Two, a German Bomber dropped a bomb on the Sunday School completely demolishing it, but fortunately did not damage the Church Building. Also no lives were lost.nAfter the War ended a new Hall was built with the aid of a War Damage Grant and was well used until 2009 when it was demolished and a new Hall and other facilities were built bringing the present Church premises into the 21st Century.
INTER-RELIGIOUS RELEVANCE
All are welcome to visit the church and attend the church services and activities in the meeting rooms.
RELIGIOUS INFLUENCE
Mill Road Baptist Church participates in local activities by opening the Church for local events whenever possible and practical. Of particular note is the Mill Road Winter Fair which is a day long event held along Mill Road in early December and is strongly supported by the local community.nThe church has rooms for let and classes include prayer and bible study, tea and chat and baby yoga.
HOW TO USE WITH THE STUDENTS
- Direct visit: see website
- Virtual tour: see website
REFERENCE TO THE GUIDELINE
LINKS
Baptists Together

Our Union of over 2000 churches is supported by staff in thirteen regional associations and three specialist teams based in Didcot, Oxfordshire. Our six Baptist Colleges prepare men and women for ministry and offer ongoing development and training.