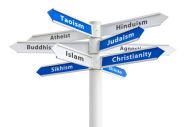 An interactive didactical map interactive didactical map giving access to sites with a religious relevance.
Back to the Religious Sites List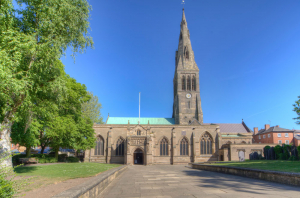 Leicester Cathedral
St Martins House, 7 Peacock Lane, Leicester, LE1 5PZ, United Kingdom
DESCRIPTION OF THE RELIGIOUS SITE
DESCRIPTION
Built on the site of a Roman temple, the Cathedral Church of St Martin, Leicester, usually known as Leicester Cathedral, is a Church of England cathedral in the English city of Leicester and the seat of the Bishop of Leicester. The church was elevated to a collegiate church in 1922 and made a cathedral in 1927 following the establishment of a new Diocese of Leicester in 1926.nThe remains of Richard III were buried in the cathedral in 2015 after being discovered nearby.
HISTORICAL RELEVANCE
A church dedicated to St Martin has been on the site for about a thousand years, being first recorded in 1086 when the older Saxon church was replaced by a Norman one. The present building dates to about that age, with the addition of a spire and various restorations throughout the years. Most of what can be seen today is a Victorian restoration. nnA cenotaph memorial stone to Richard III was until recently located in the chancel; it was replaced by the tomb of the king himself. The monarch, killed in 1485 at the Leicestershire battlefield of Bosworth Field, had been roughly interred in the Greyfriars, Leicester. His remains were exhumed from the Greyfriars site in 2012 and publicly identified in February 2013. nnIn July 2014, the cathedral completed a redesign of its gardens, including installation of the 1980 statue of Richard III. Following a judicial review decision in favour of Leicester, plans were made to reinter Richard III's remains in Leicester Cathedral, including a new tomb and a wider reordering of the cathedral interior. Reinterment took place on 26 March 2015.
INTER-RELIGIOUS RELEVANCE
Since 1927, as the seat of the Bishop of Leicester, the cathedral gathers people together for worship, celebration, lament, debate and service of the poor and vulnerable. We offer hospitality to the wider church, the communities of faith which make up our multicultural society and those who come as visitors to the East Midlands, especially in search of the story of King Richard III.n"We have found here that God's love is liberating, transcending all the barriers that separate us and calling us to be a pilgrim people. We meet Jesus Christ afresh daily as we serve those most in physical or spiritual need. Every day we see that those who come as strangers so often leave as friends."
http://leicestercathedral.org
RELIGIOUS INFLUENCE
The cathedral is involved with many outreach projects including supporting refugees and asylum seekers and Street Pastors supporting young people out at night.
HOW TO USE WITH THE STUDENTS
REFERENCE TO THE GUIDELINE
LINKS