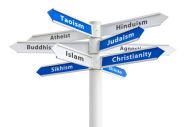 An interactive didactical map interactive didactical map giving access to sites with a religious relevance.
Back to the Religious Sites List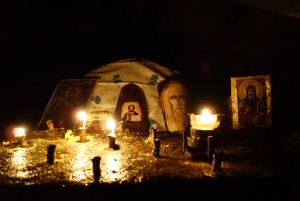 Saint Ivan Rilski Cave
Rila monastery area, Kyustendil, Bulgaria
RELIGIONS
Orthodox, New age
DESCRIPTION OF THE RELIGIOUS SITE
DESCRIPTION
The cave in which St. Ivan Rilski spent the last years of his life is located about 4 km away from the Rila Monastery. Take the road past the monastery. After 3 km, just before a sharp U-turn, you'll see a large wooden icon on the left side of the road. Take the path through the woods that starts there. It is about a 20 minute hike to the cave. The terrain is rocky so make sure you have good shoes on. Soon you will reach a small chapel. The cave is right behind it. Inside, there is a wooden stair leading to a higher exit through a tiny rock chimney.
HISTORICAL RELEVANCE
St. Ivan Rilski (St. John of Rila the Miracle Worker) is the most revered Bulgarian hermit saint, heavenly protector and patron of the Bulgarian people. He lived in the 9th and 10th century CE. St. Ivan Rilski was known to have performed many miracles to help the people. This brought him undesired fame. He chose the life of a hermit in order to stay closer to God. He spent the last seven years of his life in seclusion in this cave.
INTER-RELIGIOUS RELEVANCE
It is said that a strong divine presence can be felt inside the cave. Many worshipers write down their pleas and embed them in the prayer stone that is blessed by the saint. Outside the cave there is a healing spring that never runs dry. The site is visited by people of different confessions who seek healing and purification.
RELIGIOUS INFLUENCE
The cave of St. Ivan Rilski is a famous site of worship and pilgrimage. There is a notorious ordeal that many of the pilgrims undertake. It is believed that only the righteous can pass through the narrow rock chimney exit of the cave.
HOW TO USE WITH THE STUDENTS
- Direct visit
- Discussion: What was the most interesting or surprising thing learned?
CONNECTION WITH OTHER RELIGIOUS SITES
REFERENCE TO THE GUIDELINE
LINKS