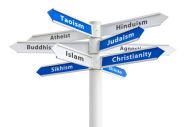 An interactive didactical map interactive didactical map giving access to sites with a religious relevance.
Back to the Religious Sites List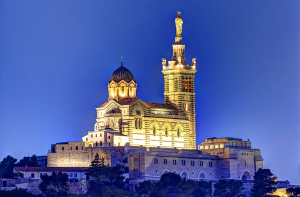 Basilica Notre-Dame de la Garde
Rue Fort du Sanctuaire, 13281 Marseille, France
DESCRIPTION OF THE RELIGIOUS SITE
DESCRIPTION
Notre-Dame de la Garde (literally: Our Lady of the Guard) is a Catholic basilica in Marseille, France, and the city's best-known symbol. The site of a popular Assumption Day pilgrimage, it was the most visited site in Marseille.[1] It was built on the foundations of an ancient fort at the highest natural point in Marseille, a 149 m (489 ft) limestone outcropping on the south side of the Old Port of Marseille.
HISTORICAL RELEVANCE
Construction of the basilica began in 1852 and lasted for 21 years. It was originally an enlargement of a medieval chapel, but was transformed into a new structure at the request of Father Bernard, the chaplain. The plans were made and developed by the architect Henri-Jacques Espérandieu. It was consecrated while still unfinished on June 5, 1864.

The basilica consists of a lower church or crypt in the Romanesque style, carved from the rock, and an upper church of Neo-Byzantine style decorated with mosaics. A square 41 m (135 ft) bell tower topped by a 12.5 m (41 ft) belfry supports a monumental 11.2 m (37 ft) statue of the Madonna and Child made of copper gilded with gold leaf.
INTER-RELIGIOUS RELEVANCE
An extensive restoration from 2001 to 2008 included work on mosaics damaged by candle smoke, green limestone from Gonfolina which had been corroded by pollution, and stonework that had been hit by bullets during the Liberation of France. The restoration of the mosaics was entrusted to Marseille artist Michel Patrizio, whose workmen were trained in Friuli, north of Venice, Italy. The tiles were supplied by the workshop in Venice which had made the originals.
RELIGIOUS INFLUENCE
Attracting thousands of tourists each year, the basilica became a great tourist attraction in the city of Marseilles, in France. The city in itself is not known for its religious history, therefore it is a nice eyesight to see this basilica up on a hill.
HOW TO USE WITH THE STUDENTS
Direct visit
REFERENCE TO THE GUIDELINE
MEDIA RESOURCES
VIDEOS
Notre-Dame-de-la-Garde - Visites privées

Notre-Dame-de-la-Garde is a symbol of Marseille that welcomes a lot of visitors every year. Majestic, it overlooks the city and gives character to the landscape, but that's not all... Inside this architectural masterpiece, 12 million tesserae make up 1200 square metres of magnificent mosaics. Private tours invite you to enter this incredible monument and discover all its secrets.
LINKS