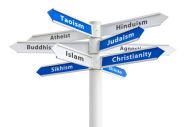 An interactive didactical map interactive didactical map giving access to sites with a religious relevance.
Back to the Religious Sites List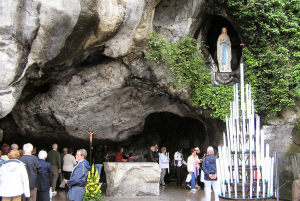 Grotte de Massabielle
Lourdes, France
DESCRIPTION OF THE RELIGIOUS SITE
DESCRIPTION
The cave of Massabielle or Massabieille, better known as the generic cave of Lourdes, is a Catholic place of pilgrimage located in Lourdes, in the French department of Hautes-Pyrénées. It was there that Bernadette Soubirous saw 18 apparitions of the Virgin Mary in 1858 and where, on the Virgin's indications, she discovered a water source that is now considered miraculous.
HISTORICAL RELEVANCE
Before the apparitions, the place considered impure is called "La Tute aux cochons" because pigs are led there. However, many beliefs or superstitions have always been associated with caves, especially in mountainous regions6.

In 1858, Bernadette Soubirous recounted eighteen apparitions of a young girl she called Aquéro ("that" in patois)7: several times asked to say her name, she ended up, on March 25, saying to him, in Lourdes patois, "Que soy era Immaculada Councepciou" (I am the Immaculate Conception).
INTER-RELIGIOUS RELEVANCE
The cave of Massabielle is an obligatory passage for any visitor going to the sanctuaries of Lourdes, whether a simple visitor or a believer. The visit to the cave is done in silence, most people touch the cave wall with their fingers out of respect or to make a wish or prayer. Processions are also organized for disabled pilgrims.

It is traditional to come to the cave with a blessed candle and light it in front of it in memory of this gesture made by Bernadette during the first apparitions of the Virgin.
RELIGIOUS INFLUENCE
Visitors who come to visit Lourdes know its religious influence. As of for France the city of Lourdes is the most well-known for its multiple religious sites.
HOW TO USE WITH THE STUDENTS
Direct visit or virtual visit by following the pilgrimage live on Youtube
REFERENCE TO THE GUIDELINE
MEDIA RESOURCES
VIDEOS
The source of the Cave as you have never seen it before

In its edition of March 2, 2015, the video diary of the "Grotte Cœur de Lourdes Project" shows in preview what tomorrow will be the new lighting of the pure water spring that has been flowing since February 25, 1858 at the bottom of the Grotte de Lourdes.
LINKS