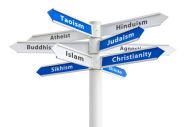 An interactive didactical map interactive didactical map giving access to sites with a religious relevance.
Back to the Religious Sites List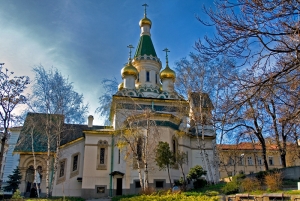 The Russian Church in Sofia
3 "Tsar Osvoboditel" Blvd, 1000 Center, Sofia
DESCRIPTION OF THE RELIGIOUS SITE
DESCRIPTION
The church of St Nicholas the Miracle-Maker is also known as the Russian church in Sofia. It is a Russian Orthodox church in central Sofia. This extraordinary white and green building was designed by Russian architect Mikhail Preobrajenski and built by Russian workers, some of them worked on the Alexander Nevsky Cathedral, from 1912 until 1914.
HISTORICAL RELEVANCE
The church was built on the site of the Saray Mosque, which was destroyed in 1882, after the liberation of Bulgaria by Russia from the Ottoman Empire.
INTER-RELIGIOUS RELEVANCE
The Russian church was built in 1914 in Russian revival style. It is a copy of those Russian churches from 16th century. There are five small domes made of gold and the central dome is 19 meters high. The bells were donated by the Russian King Nikolay II. The exterior was recently renovated by the Moscow Patriarchate, which provided the gold. The exterior of St Nicholas the Miracle-Maker church is much prettier than the interior, which is rather modest and dim. But its frescoes are worth seeing. The frescoes were painted in the style of the Novgorod icon school.
RELIGIOUS INFLUENCE
More popular than the church itself is the crypt, accessed to the left of the main entrance. Here lies the tomb of the former Bishop Serafin, who died in 1950. Locals come here to post hand-written messages into a box, standing to the right of the tomb. Although Serafin was never canonised, he is revered as a saint and believed to make prayers and wishes come true.
HOW TO USE WITH THE STUDENTS
The students need to visit the church, not only to broaden their knowledge, but they could as well write down on a sheet of paper their wishes and put them in a box.
REFERENCE TO THE GUIDELINE
MEDIA RESOURCES
VIDEOS
LINKS