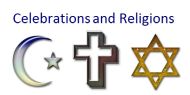 Description and comparative analysis of the celebrations of different religions and confessions
Celebrations

5.1. Introduction
Celebrations in Islam are important occasions when people, families and friends get together forming a social solidarity. Ramadan Feast (Eid al-Fitr) and Feast of Sacrifice (Eid al-Adha) are the most two important celebrations observed by all Muslims. Ramadan Feast is 3 days feast following the last day of fasting during the month of Ramadan during which the Muslims follow strict rules of fasting from sunrise to sunset. Since religious calendar of Islam is a lunar calendar, which is 11 days shorter than the Gregorian calendar, every Islamic celebration starts 11 days earlier each year.

Feast of Sacrifice (Eid al-Adha) is related to pilgrimage (Hajj) to Mecca and Medina and the pilgrims (as well as Muslims living in the rest of the world) sacrifice animals such as sheep, goat, calf or camel commemorating prophet Abraham and how his faith was trialled by the God asking him to sacrifice his own son, Isaac.

Having the foreskin taken away from their penis, circumcision becomes a major issue for the boys in Islam to have a sign of their puberty as well as a sign of membership to the community.
Interview