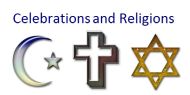 Description and comparative analysis of the celebrations of different religions and confessions
Celebrations

6.2. Protestant Church
Christmas, Easter, Lent in the Protestant churches have the same meanings as the Church of England.

Christmas – the celebration on the 25th December that celebrates the birth of Jesus Christ and one of the most Important dates in the Church of England Calendar.

Easter – Celebrates the death of Jesus and the beginnings of the Christian faith. As with all Christian Denominations it is the most celebration in the Church of England Calendar.

Lent - Lent is the Christian season of preparation before Easter. The Lenten season is a time when many Christians observe a period of fasting, repentance, moderation, self-denial and spiritual discipline and is solemn season for all Christians.
Interview
Protestant Discussion on Ceremonies, Festivals and Dietary Laws