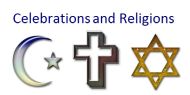 Description and comparative analysis of the celebrations of different religions and confessions
Celebrations

1.3. Dormition of the Mother of God
All the Eastern Churches - both Catholic and Orthodox - celebrate the Dormition of Mary as the greatest Marian festivity: the "feast of feast days" of the Mother of the Lord. According to the liturgical calendar, it falls on August 15th, the same day on which, instead, the Latin Church celebrates the Assumption of Mary to Heaven; the Dormition is the most important Marian feast: for the Eastern Churches the Dormition is considered and celebrated as "the Easter of the Mother of God"; and the fourteen days preceding it are called "little Lent of the Virgin" in analogy with the great Lent that prepares the Passover of Christ. On these days the faithful go to church and sing the office of supplication to the Mother of God, the "Paraclisis", which is an integral part of the liturgical books, both Catholic and Orthodox, Greek and Slavic: it is indeed one of the most popular expressions of the Byzantine cult of the Virgin Mother.

The festivity of the Dormition has no foundation in the Scriptures, but since the 4th century it has been mentioned in the works of the Fathers of the Church, such as Ephrem the Syrian and Epiphanius of Salamis (Panarion, Volume II, book III).

At the beginning of the 7th century the festivity of the Dormition was established in Constantinople, with the decree of Emperor Maurice (582-602), and soon the main object of the festivity became the entrance of the Body of Mary into glory. The festivity of the Assumption was introduced in Rome around the year 650, becoming the object of a solemn commemoration made at first on January 18th and later on August 15th.
Pictures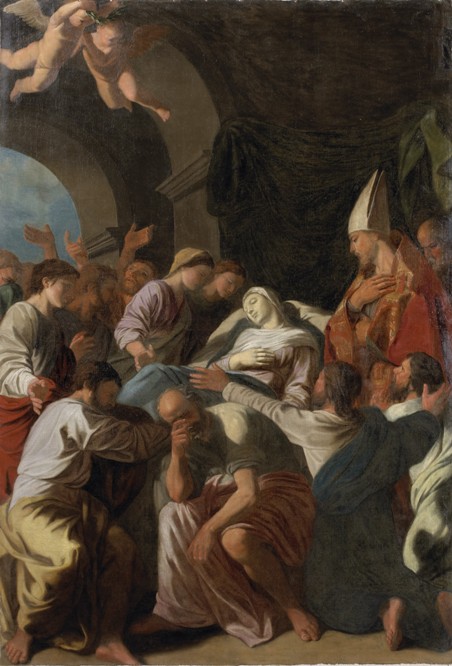 N. Poussin "The death of the Virgin" – a baroque representation of the Dormition ( 17th cent.)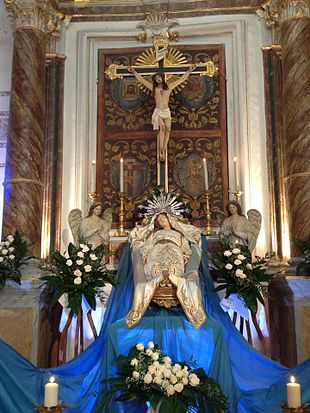 Wax statue of the Dormition, 17th century, Church of San Cataldo (CL)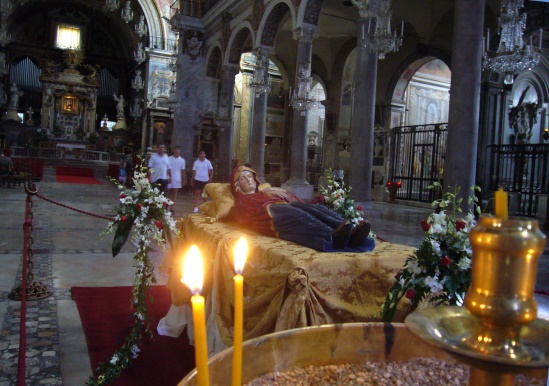 Statue of the Dormition exhibited on 14th August in the Roman church of Aracoeli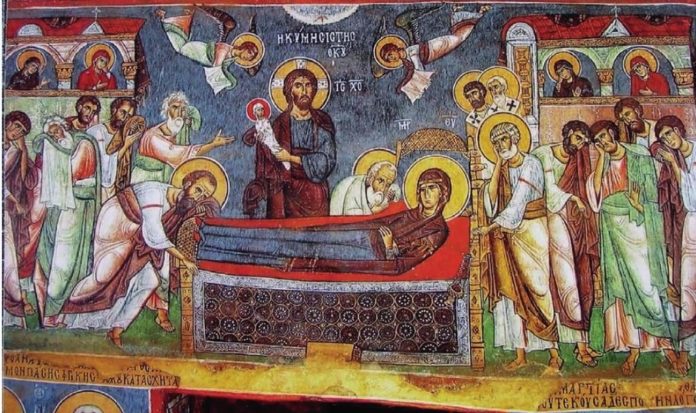 Fresco of the Panaghia Phorbiotissa in Asinou (Cyprus)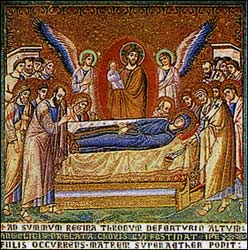 P. Cavallini, Passage of the Virgin Mary – Mosaic in the Basilica in Santa Maria in Trastevere, Roma
Videos
Video on the places of the Dormition