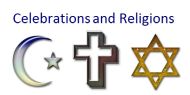 Description and comparative analysis of the celebrations of different religions and confessions
Celebrations

7.3. Sikhism
Vaisakhi – or Baisakhi is a double celebration to mark the harvest festival and Sikh New Year. Celebrate nature's bounty with vegetable dishes and simply prepared dahls.

Gurpurbs - celebrate all events connected with the Sikh Gurus, these include the birthdays of the Sikh Gurus, Gurus leaving for heavenly abode or the martyrdom days of the Sikh Gurus.

Diwali - The Sikh celebration of the return of the sixth Nanak from detention in the Gwalior Fort coincides with Hindu festival of Diwali.
Interview
Sikh Discussion on Ceremonies, Festivals and Dietary Laws