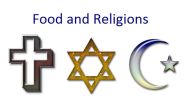 Description and comparative analysis of the dietary rules of different religions and confessions
Dietary Rules

1. Eastern Catholicism
In the doctrine and in the Christian tradition there are no impure or forbidden foods, differently from what we can find in the other great monotheistic religions. In Christianity all foods, both animal and vegetable, are allowed, since all nature is considered the work of God. Dietary rules, however, also exist in the different Christian confessions, and, over the centuries, they have led to the development of true culinary traditions, as well as to the norms of canon law. In the Scriptures (Mt 9, 15 and II Cor. 6, 5) there is the theological basis of fasting, and historically the practice of fasting has been recommended by the Councils and by the Fathers of the Church, such as St. Augustine (De oratione et jeiuno, serm 73).

The most important of these canon rules is the one concerning abstinence and fasting. Abstinence consists in not consuming, on certain days or for a certain period, a specific food - generally meat; abstinence, like fasting, has a spiritual meaning, because physical mortification is always directed to reinforce the spirit.

Fasting instead consists in refraining from any food, for a certain period, from the beginning of the day, and then eating only foods that do not contain animal fats. In the tradition of the Eastern Churches, both Catholic and Orthodox, it is necessary to distinguish between periods and days of "strict" fasting from those of ordinary fasting. In the days of strict fasting you cannot eat either meat, fish, or seafood, or dairy products, oil, or drink alcoholic beverages, but you can only eat beans or chickpeas, potatoes, vegetables, fresh or dried fruit; in the days of ordinary fasting it is possible to consume oil, vegetable margarine, alcoholic beverages, seafood (shellfish) but not fish.
Interview