3.3. Christmas dishes, Christmas food and the Advent calendar
Christmas dinner is a meal habitually eaten at Christmas. These feasts are regularly intensely rich and extensive, in the tradition of the Christian feast day celebration, and they are an important part of the gatherings held to celebrate the Christmas holiday.

In certain instances, there is a ceremonial part to the meal that is related to the religious celebration. This meal can take place any time from the evening of Christmas Eve to the evening of Christmas Day itself.

The actual meal consumed changes in different parts of Europe with regional gastronomies and local traditions. In many parts of the world, particularly former British colonies, the meal shares some connection with the English Christmas dinner involving roasted meats and pudding of some description. The Christmas pudding and Christmas cake evolved from this tradition.

Italian regional traditions are varied. They are divided in two ranges: Northern Italy and Southern Italy. Additionally, often the Christmas Eve Supper is more important than the Christmas Dinner, because the Holy Mass is celebrated at midnight.

The started "primo" is generally a sort of soup made with pasta (usually filled pasta, like tortellini) boiled in meat. The course meal is very diverse in the two areas. In Northern Italy they usually eat poultry, often filled, or roasted or boiled and seasoned with sauces.

In Southern Italy they eat the fried capitone, which is typical of Christmas Eve, because this is a fasting day. On Christmas Day they could eat roast lamb or fish.

Christmas deserts are very varied, and every region and sub region have its own. Commonly, in Northern Italy they eat a cake with candied fruits, chocolate, raisins or pine nuts, known as panettone, followed by torrone (enriched with cherries, chocolate, sweets and so on), nougat and nuts. Whereas, In Southern Italy instead of one cake they serve many kinds of marzipan, biscuits, zeppole, cannoli, candied fruits, and fresh fruits. In the last few decades, panettone has become popular as a Christmas sweet all over Italy. Pandoro is also a very popular cake at Christmas and New Year, and you can find it in all supermarkets

We therefore see that, all around Europe, Christmas meals vary a lot, with many national dishes, and regional dishes and variations.

Some other examples include the Polish poppy seed cake called makowiec, or the Stollen or Christstollen in Germany, representing the swaddled Jesus.

Citrus fruits such as oranges and clementines are also very typical of Christmas times.

Beverages such as hot wine or mulled wine, and the British eggnog are also very popular in the Christmas season.

The Advent calendar is another food-related Christmas tradition, linked to the season of Advent, from the latin adventus meaning arrival, coming. This season of the Catholic liturgical calendar is aimed at preparing the celebration of the birth of Jesus. Historically, members of different communities used to fast during Advent.

The advent calendar originates from a 19th century German tradition of gifting children "holy cards", or pious images, during December. It is now a decorated calendar including gifts, such as chocolates or various items, hidden behind windows, with one window for each day of December up to the 24th.
Pictures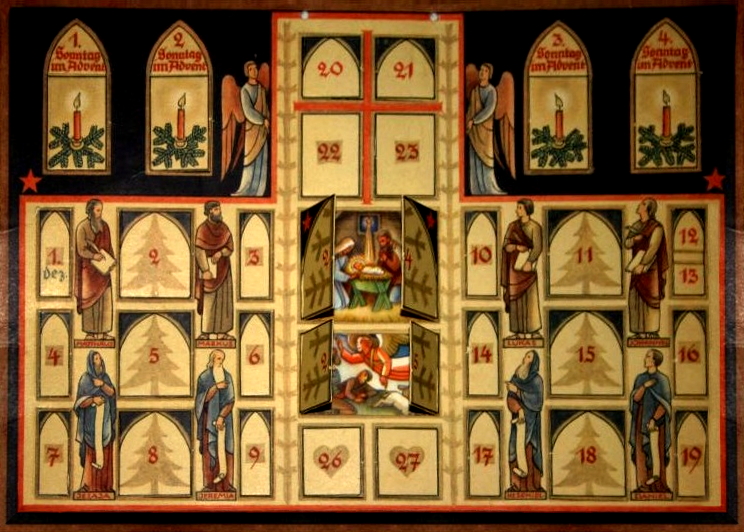 Advent calendar
An advent Calendar with images for each day, including a nativity scene in the middle. Picture by Von Turris Davidica, CC BY-SA 3.0
Home-made advent calendar
Home-made Advent calendar with compartments for various items. Picture by Andrea Schaufler,CC BY-SA 3.0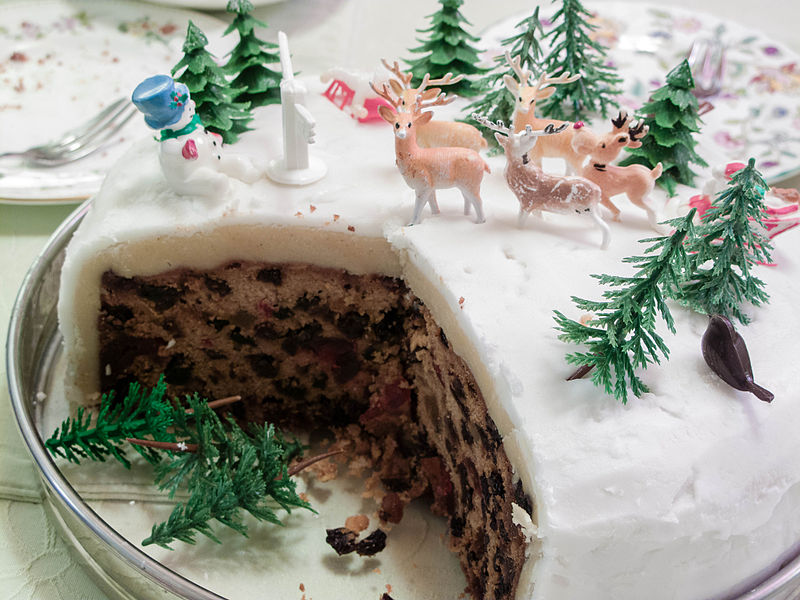 Christmas cake
British Christmas cake with winter-themed decorations and the classic white frosting. Picture by James Petts from London, England, CC BY-SA 2.0.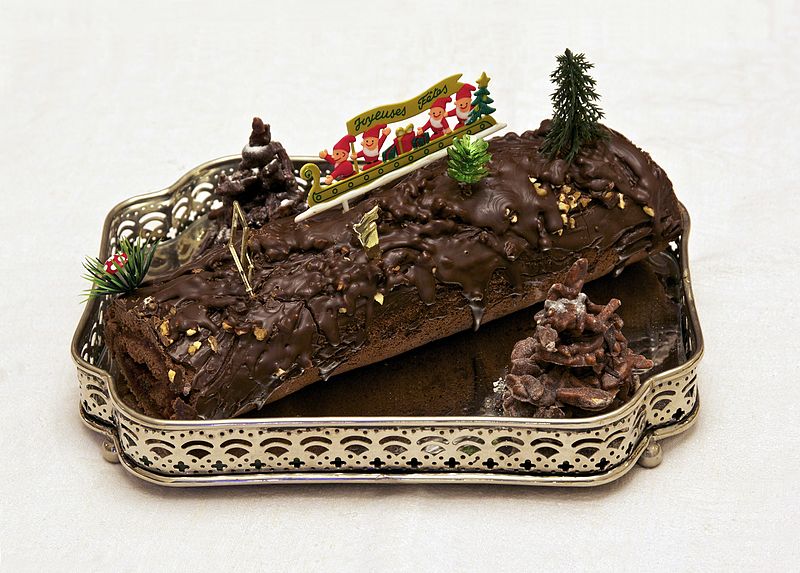 Bûche de Noël
French Yule log or "Bûche de Noël" (literally Christmas log).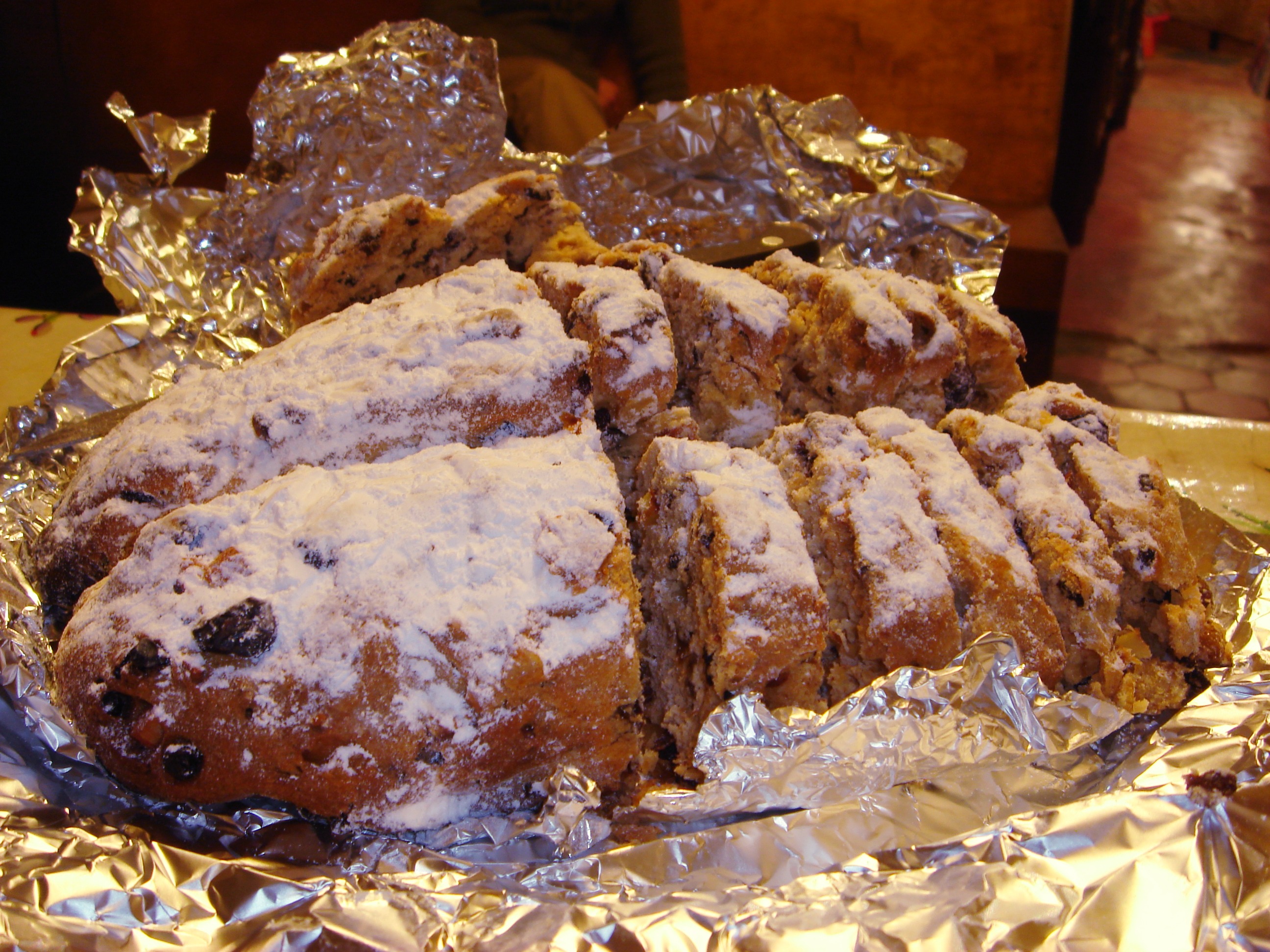 Stollen
Picture by Alexandre Duret-Lutz, CC BY-SA 2.0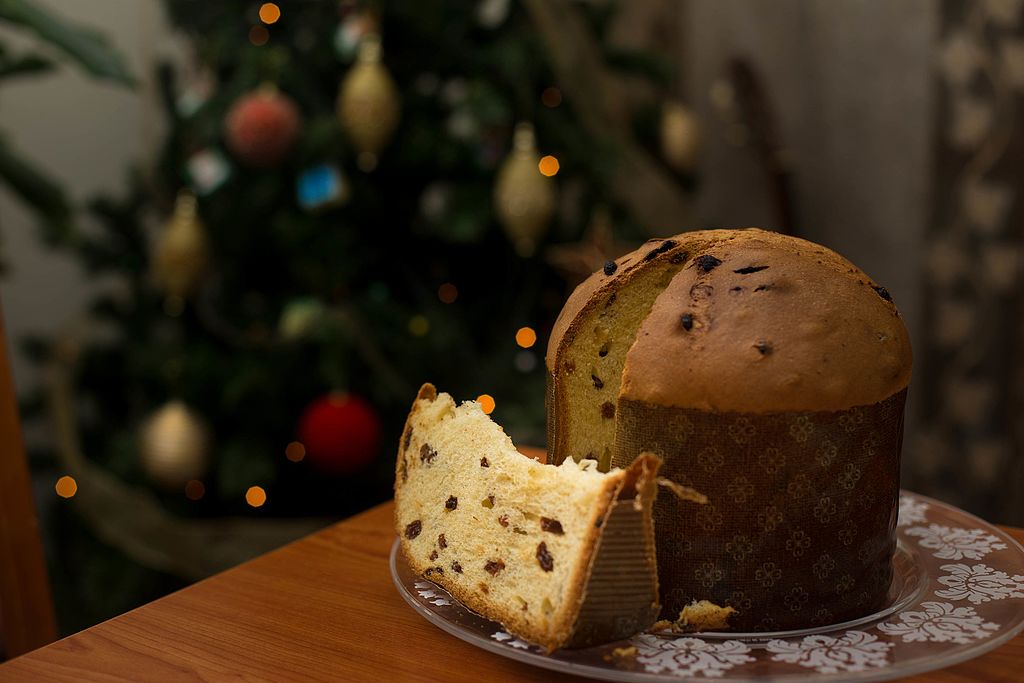 Panettone
The light Christmas bread called panettone originated from Milan in the 20th century, and has now become popular in many countries, especially in South America. Picture by N i c o l a from Fiumicino (Rome), CC BY 2.0.
Videos
What Christmas Dinner Around The World Looks Like
A look at the many different dishes eaten around the world for the festive season.
Christmas Dishes From Around the World
This video takes a look at several traditional Christmas dishes from around the world.