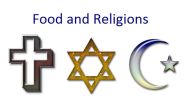 Description and comparative analysis of the dietary rules of different religions and confessions
Dietary Rules

4.3. Nativity Fast
The Nativity Fast is one of the four great periods of abstinence and penance practiced by Eastern Orthodox Christians through the year. It has been established to help the faithful become like Christ, to purify themselves and prepare for the Nativity Feast (December 25). Sometimes the fast is called Philip's Fast, as it begins on the day following the Feast of St. Philip the Apostle (November 14).

The Nativity fast encompasses 40 days - from November 15 to December 24. Dietary requirements are not as severe as during Great Lent or the Dormition Fast. Abstinence from meat, poultry, eggs, dairy products, fish, oil, and wine is required during the period. Fish, wine and oil are allowed on Saturdays and Sundays, and oil and wine are allowed on Tuesdays and Thursdays. The fasting rules permit fish, wine and oil on certain feast days that occur during the course of the fast: Evangelist Matthew (November 16), Apostle Andrew (November 30), Great-martyr Barbara (December 4), St. Nicholas (December 6), St. Spiridon and St. Herman (December 12), St. Ignatius (December 20), etc.

The Eve of Nativity (December 24) is a strict fast day, called Paramony, on which no solid food should be eaten until the first star is seen in the evening sky (or at the very least, until after the Vesperal Divine Liturgy that day). If Paramony falls on a Saturday or Sunday, the day is not observed as a strict fast, but a meal with wine and oil is allowed after the Divine Liturgy, which would be celebrated in the morning.

During the course of the fast, a number of feast days celebrate those Old Testament prophets who prophesied the Incarnation. The Entry of the Theotokos into the Temple is celebrated November 21. After the apodosis (leave-taking) of that feast, hymns of the Nativity are chanted on Sundays and higher-ranking feast days. The liturgical Forefeast of the Nativity begins on December 20, and concludes with the Paramony on December 24. During this time hymns of the Nativity are chanted every day.

Two Sundays before Nativity the Church calls to remembrance the ancestors of the church, both before the giving of the Law of Moses and after. The Sunday before Nativity commemorates all of the righteous men and women who pleased God from the creation of the world up to Saint Joseph. At the Vespers portion of the All-Night Vigil three Old Testament parables are read: Genesis 14:14-20, Deuteronomy 1:8-17 and Deuteronomy 10:14-21. The Epistle which is read at the Divine Liturgy is a selection from Hebrews 11:9-40; the Gospel is the Genealogy of Christ from the Gospel of Matthew (1:1-25)
Pictures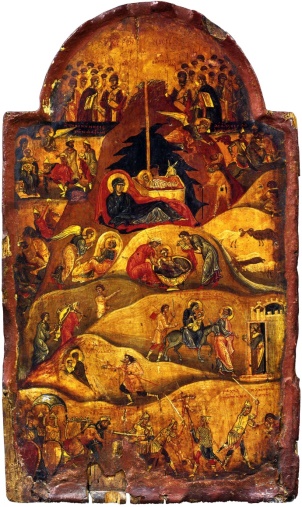 The Nativity story
Nativity scenes. 11th century Orthodox icon. 36.3 × 21.6 × 1.6 cm. The Holy Monastery of Saint Catherine, Sinai, Egypt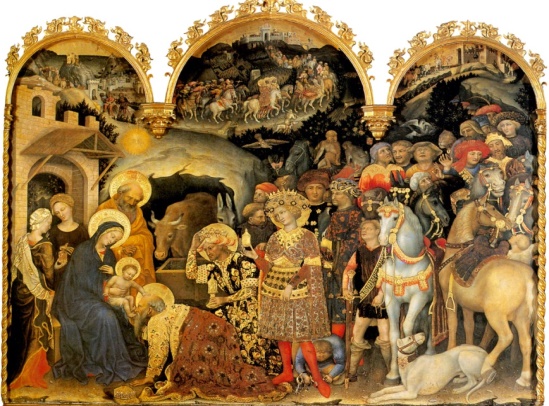 Adoration of the Magi (Gentile da Fabriano)
This 1423 altar piece is considered Gentile's finest work and has been recognized the most important example of International Gothic painting in Italy.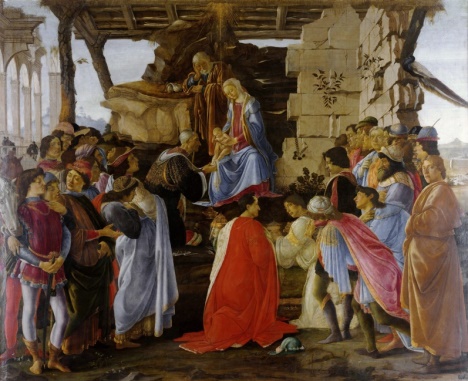 Zanobi Altar piece
The Adoration of the Magi is a painting by the Italian Renaissance master Sandro Botticelli, dating from 1475 or 1476, early in his career.

Templon epistyle
Sinai, Egypt, Second half of the 12th century. The Annunciation. The Nativity. The Presentation in the Temple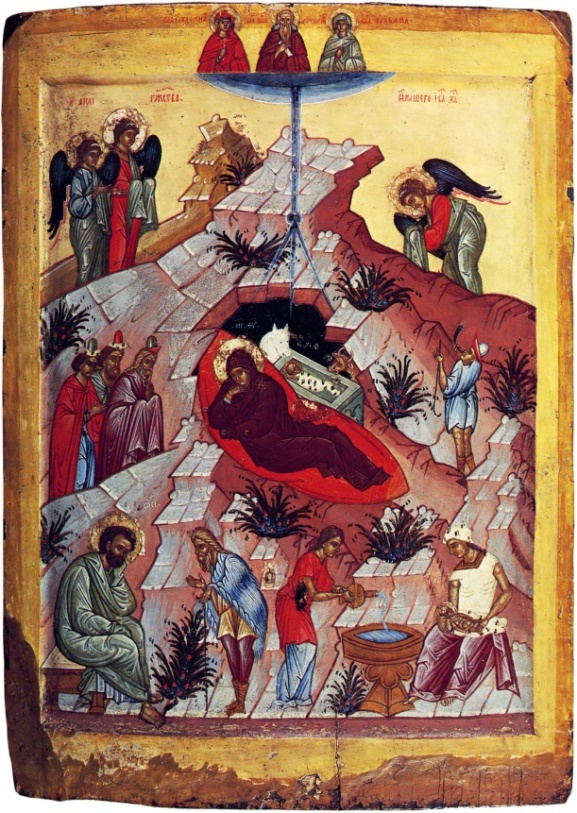 The Nativity with Selected Saints
Russian Orthodox icon, Novgorod school. First half of the 15th century. In the center of the composition against the background of a black cave, on the bed written by cinnabar, is the Mother of God reclining. In the cave in the manger there is a swaddled baby, near - an ox and a donkey. On the sides, among the ledges of the mountains are the Magi with gifts and the shepherd playing the horn
Videos
Coffee with Sister Vassa Ep.15 Nativity Fast
Captions available in ITALIAN, RUSSIAN, GERMAN/Deutsch, UKRAINIAN, SERBIAN, GREEK, ROMANIAN, BULGARIAN, ENGLISH.
Meditations on Nativity
A collection of Orthodox Prayers and Hymns in Old Slavonic, Images of Eastern Orthodox churches and icons
Troparion of the Christ's Nativity in different languages
Orthodox Christian hymn of the feast of the Nativity of our Lord Jesus Christ. In this video it's chanted in various languages and melodies: Church Slavonic, English, Arabic, French, Spanish, Albanian, Hungarian, Greek, Ukrainian, Romanian and Japanese.