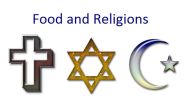 Description and comparative analysis of the dietary rules of different religions and confessions
Dietary Rules

7.2.1. Complexity of Hindu dietary laws
Dietary laws in Hinduism vary due to its many diverse tradition. They are influences by region, folklore, deities followed, class and which form of Hinduism is followed. The ancient and medieval Hindu texts do not explicitly prohibit eating meat, but they do strongly recommend ahimsa—non-violence against all life forms including animals. Many Hindus prefer a vegetarian or lacto-vegetarian lifestyle, and methods of food production that are in sync with nature, compassionate, and respectful of other life forms as well as nature.

Food and drink that the Hindus avoid include meat, eggs, poultry, fish, caffeine, alcohol and very spicy foods, and strict Hindus also do not eat mushrooms, onions, leeks and garlic. Not all Hindus avoid meat, but most of them try to avoid beef. The Hindu faith promotes a number of dietary practices arising from the belief of respecting God's creation and living in peace with nature.

According to Hindu beliefs, the food a person eats determines his or her mental and physical state. It is believed that eating pure foods helps people to be clean and natural. Hindus believe that eating intoxicating and animal food may cause a person to develop animal qualities. Killing animals for food is considered a bad practice, and anyone involved in it may face negative consequences.

In Hindu, the name of the cow is "aghnaya," which refers to "not to be killed." Cow products including milk, dung, ghee, urine and curd are used during worship. This is one particular reason Hindus avoid eating beef. Pork and beef are the most strictly forbidden to eat, but some Hindus do eat meat from other animals.

Hindus are forbidden to eat most animal-based foods, such as eggs, fish, poultry or beef. Very strict Hindus also keep alcohol, caffeine and other stimulants out of their diets as well.

Animal-based foods are not sanctioned by the religious texts and are not considered fit for human consumption, so a good portion of Hindus are vegetarian. Cows are held as sacred creatures, so the consumption of beef is wholly forbidden and the act of killing a cow at all is seen as a sin. Food is a deep-set part of the Hindu religion, and what is consumed is eaten to honor both the body and the gods. Dietary restrictions are dependent on the area as well, as in certain parts of India Hindus are permitted to eat fish as "fruits of the sea" while in other areas they are not.

More strict practitioners also avoid mushrooms, garlic, onions, alcohol and coffee or tea if it contains caffeine. The avoidance of garlic and onions is said to be because the odor is offensive to Lord Krishna, while mushrooms are seen as being grown in unclean ground. If alcohol is ingested, the practitioner must bathe before attempting to enter the temple as religion and diet are intertwined.
Pictures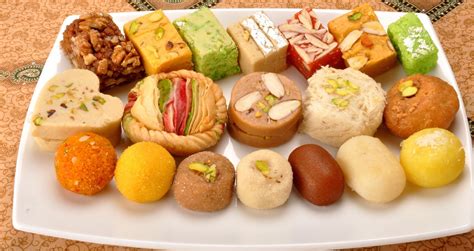 Food plays a major part in festivals and ceremonies such as the sweet meats traditionally served as part of Diwali