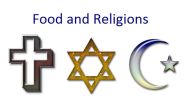 Description and comparative analysis of the dietary rules of different religions and confessions
Dietary Rules

7.3.1. Sikhs and Being Vegetarian
Food is an important part of Sikh tradition and life in the Gurdwara (Sikh Holy building) so there are strict food rules that all Sikhs and Gurdwara's follow. These rules or laws form the Sikh code of conduct which is known as the Sikh Rehat Maryada. It is based upon the teachings of Guru Granth Sahib and Sikh traditions and conventions. These rules are meant for carrying out religious ceremonies and enforcing the discipline of the faith in a uniform manner throughout the world.

No individual or organisation, whosoever important as it may be, has a right to either amend these rules or to frame new ones. This power rests with the Panth (the whole community) acting through their Panj Pyare (five beloved ones). Any rule which overrides the basic teachings of the Faith is ignored.

All intoxicants such as alcohol and tobacco, trimming hair (keshas), and eating meat are forbidden. Adultery and pre-marital relations are considered a sin. A Sikh should regard another man's wife as his sister or mother and another man's daughter as his own daughter. The same rule is applicable to women as well.

In Sikhism, only lacto-vegetarian food is served in the Gurdwara. Gurdwaras serve langa. Langar, sometimes also called Mahaparasada, is the term used in Sikhism for the community kitchen in a Gurdwara where a free meal is served to all the visitors, without distinction of religion, caste, gender, economic status or ethnicity. The free meal is always vegetarian. People sit on the floor and eat together, and the kitchen is maintained and serviced by Sikh community volunteers. At the langar, all people eat a vegetarian meal as equals.

The reason why meat is not served at langar in the Gurdwaras is because langar is supposed to be a symbol of equality of mankind where all people no matter what race, religion or caste can eat together in the atmosphere of brotherhood. Hindu, Sikh, Muslim, it does not matter who they are. Different religions have different dietary restrictions. Hindus cannot eat cow, Muslims cannot eat pork and will only eat halal meat. Jews will only eat kosher meat, others cannot eat fish or eggs. But in a Gurdwara langar, it does not matter what their dietary taboos or religious beliefs are, the food is designed so that all can eat together and no one will be offended or not be able to partake of the meal.

Subsequently a lot of Sikhs choose to carry on being Vegetarian and consuming no meat or flesh in the rest of their daily lives and therefore continuing to respect the Sikh Code of Conduct.
Pictures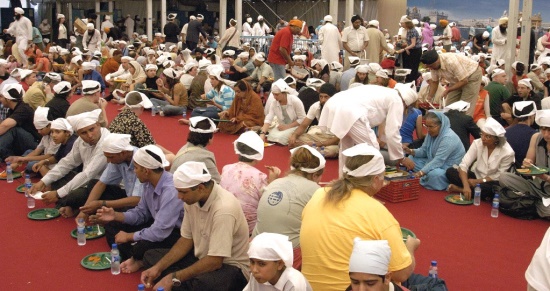 Langar is a simple meal offered in all Gurdwara's. Everyone eats together no matter who they are.
The meal is always vegetarian so that everyone can eat it regardless of being Sikh or not.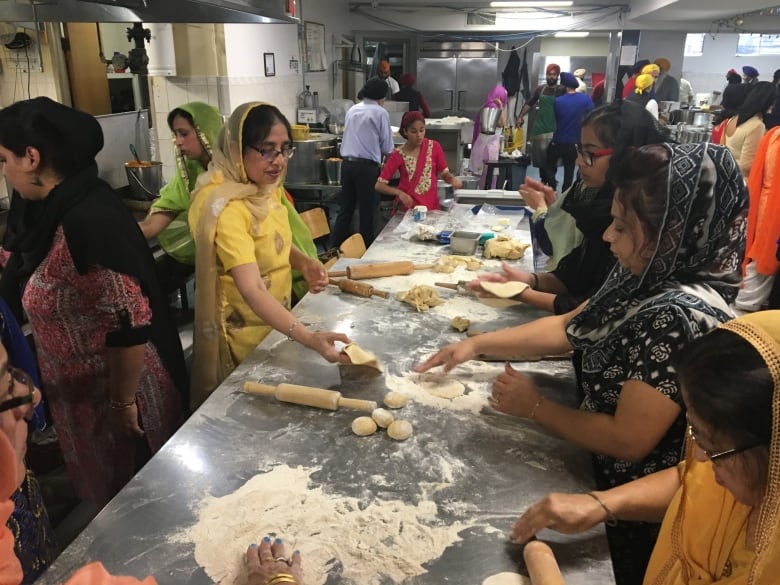 The food is made in large kitchens by both men and women as both are seen as equal.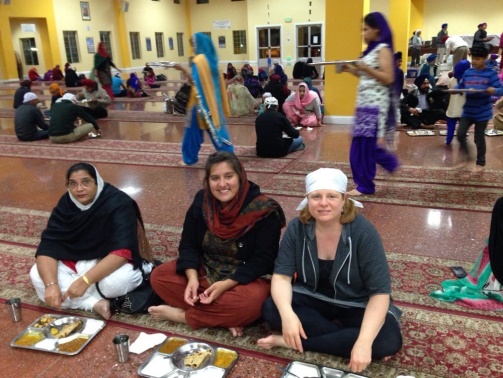 When Langar is being served is offered to all the community.