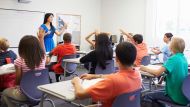 New pedagogical approaches to teach history of religion
Multidisciplinary Pedagogical Approaches to Teach History of Religions

1. Teaching Sacred Books as Literature
Literature embodies and interprets the universal human experience. Sacred books offer universal stories, themes, metaphors, and characterizations. There is a plethora of literary forms and genres that can be found there: poetry, narratives, epistles, proverbs, parables, satire, and visionary writing. When teachers and students interact with the sacred books using literary tools of analysis, they will be able to discover in the text what was missed while focusing on the storylines of miracles and life of saints. A literary approach seeks the unity of the text, trying to make connections with the literary nature of the canon, the book, and the immediate context.

When referring to sacred texts in the form of works of literature, composed of different genres, teachers can put the emphasis on critical thinking and analysis; provoking discussions about eternal human values. A sacred book can be divided into themes of study and one can look for these themes throughout the whole book. A good example of this approach is studying the Torah and the Talmud (the sacred books in the Jewish religion). These books are often referred to as one book in different forms – written form (Torah) and oral form (Talmud). The entire Talmud consists of 63 tractates, and in standard print is over 6,200 pages long. It contains the teachings and opinions of thousands of rabbis (dating from before the Common Era through the fifth century CE) on a variety of subjects, including Halakha (law), Jewish ethics, philosophy, customs, history, lore and many other topics. So speaking in a very simple language the Talmud discusses the laws, given to Moses by God, in a way common people can understand more easily, apply these laws in their everyday life, and distinguish between the different points of view.

This approach could be very beneficial also when studying the holy Quran, because although often referred to as "text", it is more recitation in the form of chapters and verses. A teacher can find it difficult to transmit the meaning of the verses in the education process for several reasons: language of translation plays a very big role in understanding the meaning and one needs always to have in mind that the original texts, written in Arabic (or Aramaic according to some researchers) have meaning that is known only to Allah and each word may have several very different meanings. Instead of presenting the Holy Quran as "text" the teacher may place accent on the values discussed in the verses and focus on the comprehension of how these values are presented in the different sacred books of the different religions.

For the teacher it would be good to build a lesson plan with all the important themes that can be tracked in the sacred texts of the holy books; for example: Mercy, Justice, Relationship between people (and nature), Honesty, Endurance in the face of difficulties, Ethics, Love, etc.
Online Resources
Practical Activity