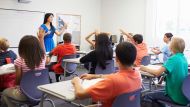 New pedagogical approaches to teach history of religion
Multidisciplinary Pedagogical Approaches to Teach History of Religions

3. Teaching Secular Values, which Coincide with Religious Values
Often there are discussions about what the secular and what the religious values are and how they differentiate from each other. Such discussions are usually on the basis of keeping the secular nature of the educational system. With this paragraph we want to emphasize the fact that religious education can help teachers to teach moral values to students, which are important in their everyday life and interaction with other human beings and the world around them. Normally, when one puts on the brakes and swerves while driving in order to avoid hitting a child that has run out into the street, one does so in order to save the child's life because one thinks life, particularly the life of an innocent child, is important. One does not apply the brakes in order to please God, though God may be pleased. A Jew might do this; a Muslim might do this; a Christian might do this; an atheist might do this. Such an act has to do with valuing the life of a child, regardless of what philosophical basis, if any, one might have for doing so. However often in schools there are obstacles to teaching moral values, which do not come from the theoretical or moral obstacles normally raised in discussions, but are more of a pragmatic nature. Some issues with this regard could be:
Even when teachers are well-trained in moral philosophy, conducting productive value discussions is very difficult to do;
Teacher education does not currently generally include moral philosophy, so unless they have learned moral philosophy outside of the curriculum, teachers are not likely even to be sufficiently trained to teach it very well;
Institutional, administrative values and the needs of schools may be in conflict with humane moral values and the specific needs of students;
There might be cases when parents, teachers, administrators, and community leaders, overuse their authority to make students believe as they do because they believe they are right.
With this paragraph and additional resources we would like to give the teachers the opportunity to explain morality not necessarily as religious in nature, but using religious education as a tool to support the process.
Online Resources
Practical Activity
Defining a set of values together with the studentsThis practical activity suggests working with the "Guidelines of the Glenmoor and Winton Academies for the Spiritual, Moral, Social, and Cultural (SMSC) development of students". It gives some guidance how to organize the activities in class.