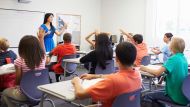 New pedagogical approaches to teach history of religion
Multidisciplinary Pedagogical Approaches to Teach History of Religions

7. Teaching Religions through Poetry
The great necessity of religious education is to be relevant. If the children consider the subject irrelevant, they will automatically reject what the subject is able to offer them. Poetry can be an accessible and profound tool in spiritual practice as we journey toward becoming more conscious as human beings. Large parts of the sacred texts are in poetic form and concern acute observation, conscious and continuous inquiry, the unveiling of reality, hope and hopelessness, the afterlife, and the tenderness of the human condition.

As when we referred to using music in teaching religions, the teacher will have to prepare a number of poems, suitable for the age of his students, to discuss. The teacher can refer both to sacred texts and texts from contemporary authors that refer to religion and beliefs. Using poetry in sacred books students can learn how imagery can be used to represent ideas, themes, and periods of history; find cultural relevance and self-connections to the poems; reflect on resilience in their lives, school, and community; determine the origins of their "voice" and consider how they would like to use it. Using this approach, teachers can explain why poets and authors use figurative language (such as metaphors and similes) in their writing.

Teaching religions through poetry may help students to better understand what factors influence the kind of person that an individual becomes; how people are formed by their experiences and environment - including struggles and obstacles a person has had to confront. These help determine the kind of individual he or she becomes. The social environment (such as family, friends, cultural identity, and gender) also plays an important role in a person's development. Using poetry in religious education might help the teacher, through the use of figurative language and imagery, to make surprising connections, add depth to a literary piece, and to create a deeper, more meaningful experience for the students.
Online Resources
Practical Activity