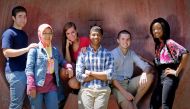 Set of teaching contents, to be used by teachers to highlight and valorize the universal values of tolerance and universalisms that all Monotheistic religions and religious texts contain to promote and sustain mutual understanding among students
Role of Religions in Civilization

3. Religion Supporting the Creation of Music
Music is an important part of everyday life, as people are constantly surrounded by it (television, radio, background music in video games, music in stores, etc). Music is also very often a central part of religions, seen as a personal and common experience between people, and religious institutions encourage its development and personal participation in it.

In the early Christian tradition, as for many other religions, music was considered as a sin if it was listened to only in the purpose of pleasure, since pleasure was getting in the way of God. But music was then not considered as a sin if it was used as a means of worship; that is to say, putting religious texts into music. Music was seen as a more involved worship experience, giving the performer and listener a deep sense of praise.

Throughout history, religious texts have been sung most of the time in almost all religious traditions. For instance, in American Indian tribes, the priests were singers; religious people in Sri Lanka were primarily drummers and dancers; and the shamans of northern Eurasia and inner Asia use music as the primary medium to communicate with the spirit world. In the Christian religion, priests and monks have sung religious texts for centuries; Buddhists sing during their ceremonies; in Islam muezzins sing the call to prayer; Hindus use songs during sacrifices.

We can see that since music is widely used in all kinds of religions, it is a universal part of religions because it appeals to human senses in a pleasurable way and ultimately makes worship more enjoyable for people. The teacher can use a webpage (see in online resources) as an example of some religious Christian songs, another page for Islamic songs by the famous philosopher Mevlana, and some religious music from India.
Online Resources
Practical Activity
Music in religionThe activity is a discussion about the use of music after listening to different religious songs.