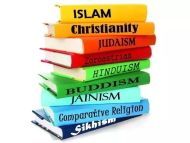 How to didactically promote among students of different confessions, the capacity of a critical analysis and understanding of the role played by religions in the history of mankind
Building Students' Interreligious Competences in Communication
and Adaptation in a Cross-Cultural Environment

1. Comparing Religious Differences, Prejudices and Stereotypes
In this paragraph the differences between diverse religions will be taken into account. Such differences exist and in some cases they are even quite deep. It is a matter of taking note of them and getting to know them more closely. The comparison requires an intimate knowledge of the essential characteristics of the religion that is considered, and of the way in which it is lived and expressed in a given culture, environment or period. This is the first (and very difficult) step to be taken in order to face the preconceptions that are widespread towards the believers of any religion. Actually, prejudices and stereotypes often depend on:
Cultural behaviours of individuals and groups and not directly from the theological principles of a given religion
Wrong understanding or lack of knowledge of that religion by those who are not part of it, but sometimes also by the same followers of that religion.
In this context it seems appropriate, in relation to the students' age, to take the following steps:
Understand and distinguish between a stereotype (a belief based on limited knowledge, which simplifies reality) and a prejudice (a simplified or erroneous belief that often implies a negative judgment); Identify, in the class group, to what extent stereotypes and prejudices are collective (i.e. known and widespread) and/or individual (elaborated by individuals or limited groups).
Identify what attitudes, behaviours and characteristics refer to stereotypes and prejudices.
Identify and distinguish what refers to specific religious elements and how much it depends on customs, traditions, and local traditions.
Identify what pertains precisely to religious identity (tendentially stable) and what refers to cultural identity (more easily subject to changes and transformations, especially in a multicultural context and in environments different from those of origin).
Online Resources
Practical Activity
Comparing Differences The activity aims to identify the main differences between practitioners of different religions. In particular the differences between Christians and Muslims are taken into account, regarding:
• Main festivities
• Ways of praying - liturgical and spiritual precepts
• Nutrition precepts (fasting, permissions and bans concerning food)

Data collection among students:
• First step: identification of stereotypes. Possible teaching methods: brainstorming, class debate. Difference between stereotypes and prejudices.
• Second step: identification of elements deriving from direct testimonies and consultation of texts, construction of comparative tables, with illustrative images. Discussion on the distance between the data actually detected and the stereotypes present in the class group.

Discussion on the distance between religious precepts and real practice.